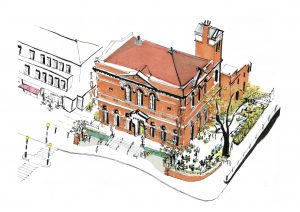 Earlier this year, we announced our new project, Inside Out Wac Arts (IOWA) which will make our home more accessible, sustainable and open for people of all ages – but it isn't possible without your help.
The IOWA project costs are in the region of £3.2 million and every penny raised makes a difference. We want you to join our community of Change Makers, who will pave the way to making IOWA happen! You may wish to host a bake sale, run with our London Landmarks Half Marathon Team, share a donation box in class or make a donation on Just Giving — the more creative the better! As a special thanks, everyone who contributes a gift of over £50 will be featured on our 'roll of honour'.
There are many ways that you can become a Change Maker and help fundraise for Inside Out Wac Arts. Keep reading to find out more.
Amazon Smile
You can now make a donation to Wac Arts when you shop online at Amazon, thanks to Amazon Smile! Amazon Smile is exactly the same as Amazon.co.uk with one key difference – every time you shop, Amazon will donate 0.5% of the net purchase price to a charity of your choice. So far, nearly £2 million has been donated to UK charities by Amazon Smile.
To set up Wac Arts as your chosen charity, head on over to Smile.Amazon.co.uk, search for Wac Arts and select us from the drop-down menu. It's that easy! Remember, only purchases through Smile.Amazon.co.uk count – so next time you're doing a bit of shopping online, you'll need to head there.
EasyFundraising
EasyFundraising makes it easy to raise money whenever you shop – it's linked to thousands of retailers including ASOS, eBay and Booking.com, sending a donation to your chosen charity whenever you make a purchase. Since launching in 2005, they've raised over £28 million for charity! You can also raise money as you search the web – each search generated a 0.5p donation!
It's easy to set up to donate through by heading over to EasyFundraising.org.uk. You can also set up a web browser extension which will pop up whenever your visit a retailer that's part of the scheme so you never miss the chance to make your purchase go further!
When you sign up, you'll also have the chance to win some fantastic prizes through their Advent Calendar competition! Each day, there's the chance to win prizes worth £500 – and we'll get a £500 donation too!
The Wac Arts Running Team
Following the previous success of our running team at the London Landmarks Half Marathon this year, we are looking for fifteen runners to join our team for the event in 2020. To find out more about joining the team, drop us an email at Philantrophy@WacArts.co.uk.
If you're not much of a runner, there will be more ways you can get involved by supporting the team – keep an eye on our social media channels to find out more!
Join the Supporting Cast
Want to make a recurring donation to Wac Arts? Join our Supporting Cast! There are four levels of giving – Crew, Chorus, Creatives and Cast – and as a member of the Supporting Cast you'll get invites to our showcases, priority booking for Wac Arts concerts and fundraisers, acknowledgement on our website and regular updates about our activities. Head over to the Supporting Cast page to find out more.
Facebook and Instagram Fundraising
You can now make a donation to Wac Arts through Facebook and Instagram Stories – and you can ask your friends to do the same! Whether it's a Birthday Fundraiser where you ask your friends to make a donation to celebrate your big day, or you decide to use Facebook as the means to collect sponsorship for an event, it's now easy to collect donations for Wac Arts. Even better, we get 100% of the donations – there's no fees! You can find a guide on how to do this on Facebook and Instagram – or get in touch with our Marketing team if you need a little extra help (Marketing@WacArts.co.uk). And don't forget to tag us in your fundraising posts so we can help spread the word!
Make a Donation
Of course, if you would like to simply make a donation, you are more than welcome to! You can do this on our Facebook or JustGiving pages, or by contacting the Philanthropy team to make a donation of £1,000 or more (Philanthropy@WacArts.co.uk).
Spread the Word
No matter how you choose to support IOWA, we want you to shout out about it! Below are some banners you can use on your social media to share how you've supported the future of Wac Arts – be sure to tag us so we can share all of our Change Makers' achievements too!