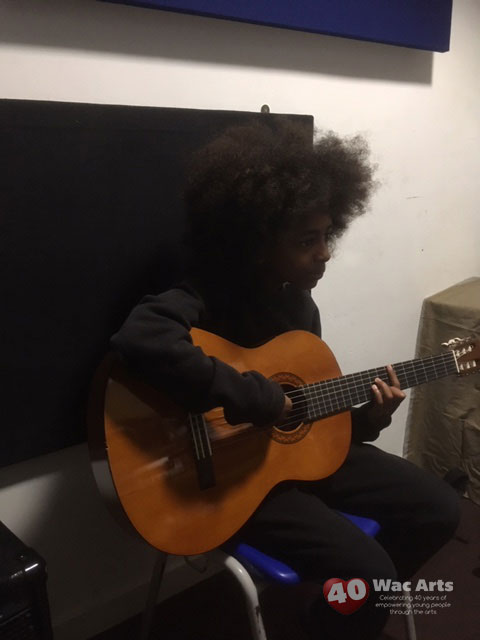 We are delighted to announce that the Ronnie Scott's Charitable Foundation have awarded a grant to support Wac Arts Music Programme for 2020. Thanks to their support we will continue to offer affordable 1-2-1 and small group tuition in saxophone, guitar, keyboard, drums as well as ensemble band classes for young people aged 9 – 15.
Jazz music is embedded in Wac Arts history having produced many alumni who have been successful in the craft. This year we hope to further inspire our young musicians by providing masterclass sessions led by professional musicians, including alumni artists. Our Alumni include; Ms Dynamite,Courtney Pine, Julian Joseph, Zoe Rahman and Rio Kai.
The Ronnie Scotts Foundation have been fantastic supporters of Wac Arts, awarding an initial grant in 2018 and gifting a collection of instruments as part of their 2019 musical instrument amnesty. As one of 15 beneficiaries we received a collection of instruments which are now available for our young people to use for classes and in our Wac Arts Band.
A huge thanks goes to the Ronnie Scott's Charitable Foundation for supporting us to inspire and empower young people through the arts, and continuing to help provide our young people with new skills and opportunities.
If you would like to find out more about Wac Arts Music Programme, Please contact Jit, Jitendra.Kulkarni@WacArts.co.uk
About Ronnie Scott's Charitable Foundation
Ronnie Scotts Charitable Foundation was launched in 2015 and aims to develop youth Jazz programmes to ensure music education is accessible to every child and young person. The Foundation has supported hundreds of young people through supporting almost fifty projects in the UK and beyond.  For more information please visit their website.  http://foundation.ronniescotts.co.uk