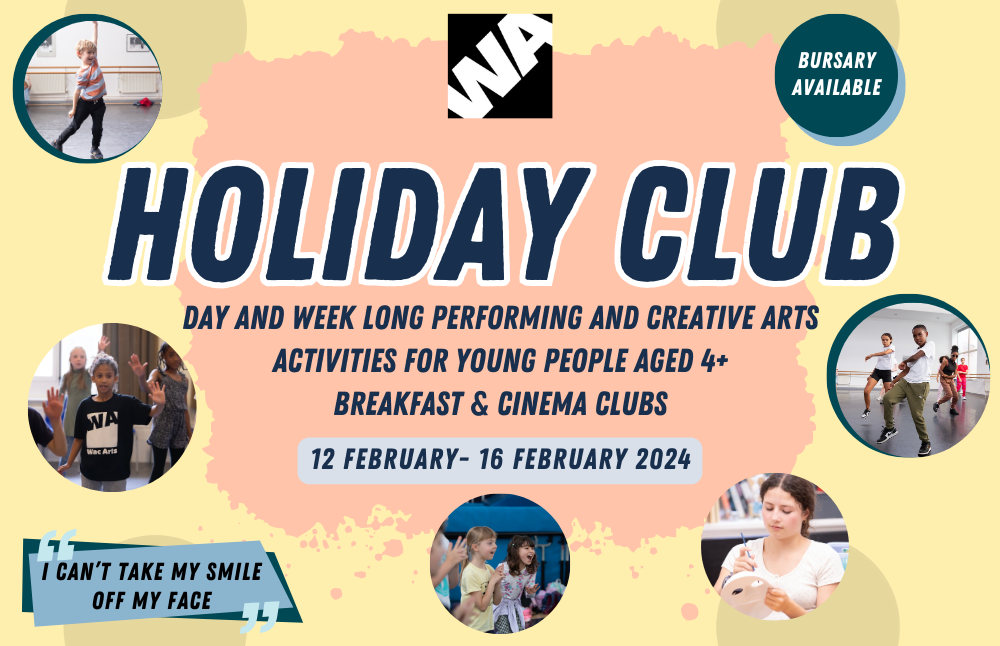 Are you ready for a week of non-stop creativity, laughter, and friendship-building?
Look no further than the Wac Arts Holiday Club! This exciting event is tailored for kids aged 4 to 14, offering a dynamic and diverse range of activities that promise to make their school holidays unforgettable!
Activity Details
Dates: 12th February – 16th February 2024
Timings: 10:00 – 16:00
Location: Haverstock School 24 Haverstock Hill, Chalk Farm, London NW3 2BQ
---
What to Expect- Ages 4 – 5:
Calling all little explorers! Our Preschool Holiday Club is tailor-made for 4-5-year-olds, offering an engaging array of activities that ignite young minds and hearts. Throughout the week, your child will dive into a world of creativity and knowledge, with activities including:
Drama Adventures: Watch as your child's imagination takes centre stage in our drama sessions, where they become characters in their own stories.
Artistic Masterpieces: From mask making to drawing, our art sessions encourage self-expression and creativity, helping budding artists flourish.
Musical Magic: Groove to the rhythm and explore the world of music in our interactive music sessions, where every child is a musical maestro.
Educational Exploration: Our educational topics cover a wide range of exciting subjects, sparking curiosity and nurturing a love for learning.
Friendship Building: Your child will form bonds that last a lifetime, developing social skills and building confidence in a supportive, inclusive environment.
At our Preschool Holiday Club, every day is a new adventure, and every child is a star. Join us for a week of laughter, discovery, and growth. Enrol your little one now and let the journey begin!
What to Expect- Ages 6 – 14:
Age-Appropriate Grouping: We understand that every child is unique, which is why we group participants in small cohorts of no more than 20, ensuring a tailored experience for every age group.
Four Exciting Sessions Daily: Each day at the Wac Arts Holiday Club is packed with thrilling activities designed to spark creativity and boost confidence. Our daily schedule includes sessions in:
Drama: Unleash your inner actor or actress as you explore the world of drama and storytelling. Let your imagination soar!
Glee Club: Sing your heart out and dance like nobody's watching in our high-energy glee club. You'll be amazed at what you can achieve!
Art and Design: Get ready to roll up your sleeves and create masterpieces. Our art and design sessions encourage self-expression and artistic exploration.
Filmmaking: Lights, camera, action! Learn the basics of filmmaking and bring your stories to life on the screen.
---
Add-On Options:
To make your child's experience even more enjoyable and convenient, we offer the option to include breakfast club or extended holiday club hours to your booking.
Breakfast Club runs from 8:30 – 10:00 and includes a bowl of cereal, a piece of fruit and a glass of fruit juice
Cinema Club runs from 16:00 – 17:30 and includes popcorn and a small bottle of water.
Flexible Booking:
We understand that every family's schedule is different. You have the flexibility to choose between a full week of activities or day drop-ins, giving you the freedom to create a schedule that works for you.
At the Wac Arts Holiday Club, we're passionate about nurturing young talent, fostering friendships, and creating a safe and inclusive environment where kids can be themselves. Join us for a week of unforgettable experiences that will leave your child inspired and empowered.
Prices:
Holiday Club – £33 per day
Breakfast and Cinema Club – £3 each per day
Bursary:
If successful, you will receive a discount code to apply at checkout. Our bursary offers 50% off for all activities.
To apply for a bursary, please ensure you have read our policy to ensure you are eligible, and then apply on our website.
Apply for a Bursary for the Wac Arts Holiday Club here
Don't miss out on this fantastic opportunity! Book your child's spot today and let the adventure begin.
---
If you have further questions, please email to: admin@wacarts.co.uk