"Wac Arts has the potential to be a national flagship organisation for inclusive practice in the arts and creative sector"
Darius Khwaja, CEO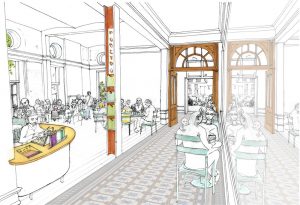 Wac Arts offers high-quality access to the arts for people who face the worst barriers to participation. We are also custodians of our Grade 2 listed Old Town Hall in Camden.
Inside Out Wac Arts (IOWA) is our project to make our home more accessible, sustainable and open for people of all ages.
Be a Change Maker
We invite you to get creative to raise funds.
IOWA project costs are in the region of £3.2million. Every penny raised makes a difference. We will feature the names of everyone who contributes to a gift of over £50 on our 'roll of honour'. You may wish to host a bake sale, run for our London Landmarks Half Marathon Team, share a donation box in class or make a donation on Just Giving
— the more creative the better!
For gifts exceeding £1,000 please contact Philanthropy@WacArts.co.uk for donation information.
To find out more about change makers at The Old Town Hall go to www.wacarts.co.uk/heritage.
Inside Out Wac Arts (IOWA):
Opening our community asset to all
For over 40 years, Wac Arts has offered a year round accessible programme of performing arts classes and media training for young people aged 5- 30 and their families. Now we want to do even more.
We consulted our community and young people told us they want 'outside play and performance spaces, an improved café, more green spaces and more community spaces'. Our older Londoners asked us to 'keep the building's grand appearance while making it more accessible.'
In March 2019 Wac Arts appointed Ash Sakula Architects who have been working with our organisation to develop the IOWA design. Their plans combine exceptional design, restoration of original features and refurbishment to transform an existing community asset for wider public benefit.
Expanding our terrace space will allow us to connect with a greater number and range of people, supporting our ambition to develop our intergenerational offer.
IOWA will enable us to offer a welcoming and safe meeting place. The new spaces will allow year-round, community-led activities helping to reduce isolation and foster social cohesion for people of all ages.
Increasing the accessibility of our building will increase our numbers across all users. For example, IOWA will enable more people over 55 and more young people with Special Education Needs & Disabilities (SEND) to participate.
Events in our new public-facing areas will be supported by volunteers. We will grow and evolve our current model to engage 100 active volunteers including younger and older beneficiaries.
The creation of dedicated flexible performance space will open up a wealth of opportunity for Wac Arts. These include new, specialist higher education courses for 75 students a year aged 18+ with progression routes into employment in the creative industries or further study.
The Design:
Ash Sakula's plans respect the fabric of the building whilst making it environmentally sustainable and updating it for the next generation to enjoy.
The proposed design includes:
Project Costs: Finances and Fundraising
The development of the project is supported by the Mayor of London's Good Growth Fund and is delivered through the London Economic Action Partnership (LEAP).
Open House 2019:
Wac Arts open the doors to the public by taking part in this year's Open House London – the world's largest architecture festival. On the 21st and 22nd September, the Old Town Hall's will be accessible to all, with a unique opportunity to take a look around our beautiful Grade 2 listed building. Wac Arts will also be hosting Town Hall Tours, a fantastic chance to explore the fascinating history and heritage of this beautiful building. The IOWA team will be present at Open House to meet the community and share the exciting development plans that will connect the community.
Wac Arts is a registered charity, No. 267043