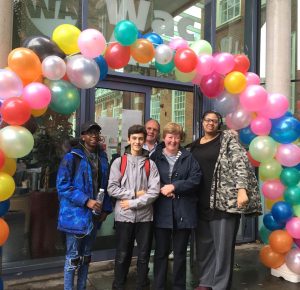 As Senior Wac Arts students returned for a new year of classes last Sunday, we opened our doors to the local community for the We Are Wac Arts Open Day, launching our year long celebrations for Wac Arts' 40th Birthday. The Open Day team didn't let the rain stop them from making the space look and feel special for visitors and students alike. From the balloon arch and birthday banner outside to the home-baked birthday biscuits inside, the space made all feel welcome and ready to celebrate with us on this special occasion. We ran a whole range of additional activities, including Town Hall Tours, face-painting, a digital orchestra and Open Mic sessions, plus chances to watch and try out our usual Senior Wac Arts classes.
"Finding out about the building and its history was really interesting. So many spaces, I had no idea!"
Luke, Junior Wac Arts Student and Young Advisor
Our Town Hall Tours, led by resident history expert Miles Eady, provided a rare chance to explore all of our building not often open to the public, including the World War Two bunkers. Miles was ready with plenty of insights along the way, telling visitors about the rich heritage of our building, from celebrity weddings to the historic graffiti that adorns the walls of the bunkers. We hope to provide more chances to explore the building in the upcoming year, as part of the heritage work funded by the Heritage Lottery Fund, supported by National Lottery players.
Meanwhile in the Atrium students gathered for discussions and drama games with Associate Director of Talawa Theatre Company, Anthony Lennon. Anthony used his experience as both an actor and a director to work with Senior Wac Arts students to build their confidence and gave them advice for their future careers, whatever they may be. Anthony is just one of our inspirational tutors, and we were delighted to have him with us for our Birthday launch to give students valuable insights at the beginning of their academic year.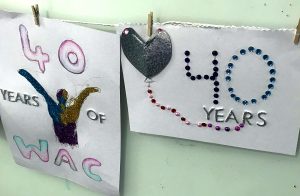 Elsewhere in the Atrium students and community members were getting creative, designing their very own logos for our 40th Birthday. We were amazed by how many of our students are not only talented on stage but at design as well! We will continue running logo design stations throughout the year, unleashing the creativity of students, staff and supporters alike to create a library of logos that capture the uniqueness of the organisation. We would love to see your submissions – just send them to Marketing@WacArts.co.uk and we'll start sharing them from January 2019. All we ask is that the logos incorporate a WA, Wac Arts or a 40 (or all of the above!) and that they're family friendly.
Philanthropy Manager Genevieve Corben was also getting creative, painting the faces of our visitors. Whether they were being transformed into a lion or getting some festival bling, everyone seemed pleased with her handiwork (especially six year-old Anastasia, who has her face painted as a pink butterfly – her favourite!)
While students were creating music in their classes, our Assistive Creative Technology Officer Chas Mollet was also busy making music – on bananas! We had the full Digital Orchestra set up, giving everyone the chance to try out the inclusive technology used regularly in our Disability and Inclusion programmes. Music could also be found on the Open Mic stage (along with some impromptu comedy sets), and one of the favourite parts of the day was when a group of Senior Wac Arts students came together at the end of the day to perform for each other. The support within the group was lovely to see, and really bought home the feeling that Wac Arts is a family.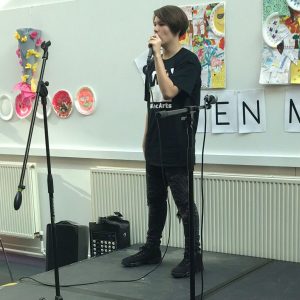 This feeling was echoed in the birthday messages left for Wac Arts in the Birthday Booth by our visitors. It was great to hear what Wac Arts means to so many people, and we can't wait for more stories to be shared in the year to come. It was a highlight of the day to not only hear from our students and supporters but from those in the local community, many of whom has not been inside the building before!
A big thank you to everyone who helped either prep for the day or came and supported on Sunday at the Open Day. Young advisors Luke and Jasmine showed their commitment to Wac Arts by playing a key part in the event (continuing on from their roles as ambassadors for the Wac Arts Weekender) helping with the planning of activities for the day, creating signage and the chalkboards for outside (which were a real success in capturing the community who were walking by) and on the day supporting Anthony's drama sessions and discussions as well as getting people enthused to take part in the activities on offer. Staff also came together on their day off to make sure everyone had a fantastic day, and they deserve a huge thank you for dedicating their time.
We cannot wait to continue to the celebrations with our next Birthday event! Keep an eye on our socials or sign up to our newsletter to be the first to hear about what's coming up!