Wac Arts recently had the privilege of being involved in this year's CulturED event, an annual CPD and networking event for primary and secondary teachers which was held at The Place. The event focused on the themes of identity, environment, communication, and well-being with creative and cultural organisations joining up to lead four workshops. Wac Arts worked with Into Film on the theme of Identity. Delivering a workshop at the CulturED event was an opportunity for Wac Arts to share our pedagogy and our practice with other educators, in order to build relationships that can benefit young people throughout London.
Three young people opened the event with short speeches. One of these was our very own John Gaine. John is a Student Ambassador who initially joined Wac Arts through Wonder Wac, one of our disabilities and inclusions programme. He later became our first Wonder Wac participant to join the Professional Approaches to Drama class. This class is for talented actors who want to pursue a career in acting and may continue their passion by going to a drama school or working with an agent to enter the industry. John performed with Senior Wac at our 2018 We Are Wac Arts Weekender festival.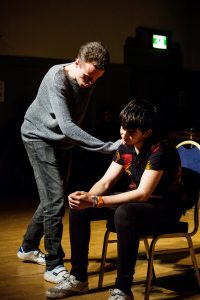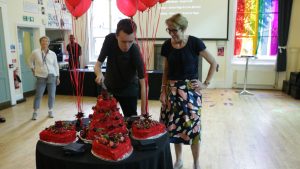 John is a regular volunteer here at Wac Arts while he searches for his next adventure in the world of work, and we were extremely grateful to have him speak on our behalf at the event! At the 40th Birthday celebrations, John was asked in his capacity as Ambassador to speak alongside Wac Arts Founder Celia Greenwood and cut the cake with Wac Arts Chair of the Board of Trustees, Liz Cleaver.
At CulturED John spoke to the audience about the importance of a creative education, the key role of arts educators and tutors, and the central place that it can take in young people's personal development and well-being. He shared some of his own personal stories at the event, including his own journey in creative education.
"Wac Arts means and expanded life. A better life. A chance to open up with likeminded people and grow as a person. That's what I felt in the eleven years I've been here".  John Gaine
In his speech, John also shared how influential his secondary school drama teacher at Acland Burghley had been to him. He elaborated to the audience that she had been his initial support and inspiration on his creative journey. Thanks to Hannah Newman, our Youth and Community Engagement Manager, who accompanied John to the event, she had been in the audience during John's speech and was able to reunite with him after eight years!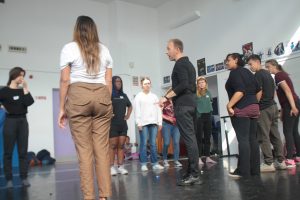 Following the opening speeches, John supported Steve Medlin, the Head of Drama at Wac Arts, to lead a workshop on the theme of 'Identity' with 15 teachers at the event. They used various drama games and techniques to explore aspects of individual and group identity. The response from the teachers was exceedingly positive with one remarking that they 'loved the warmth in the main session and the Wac Arts session. It helped me to be a part of the room. I work in Year 1, so I look forward to finding some workshop information on Wac Arts.' Some spoke directly about the opening speeches, stating, 'The young people who spoke were incredible! It would be great to have them come to school and talk to the kids directly!'
Special thanks to The Place who hosted the CulturED event on the 19th of September 2019 and to the British Museum, Cubitt Artists, House of Illustration, Into Film, Jewish Museum, London Metropolitan Archives, October Gallery, The Place, The Poetry Society, The Postal Museum and Mail Rail, and Roundhouse who led workshops during the 2019 CulturED event.