Wac Arts Birthday Schedule Spring 2019
Wac Arts believes in the infinite power of the arts to unleash the extraordinary potential of young people.
Wac Arts is celebrating 40 years of empowering young people and our 2019 Birthday schedule is shaping up to be full of vibrant activity that showcases our young people!
Support our programmes and the young people who have been working hard this term by attending our events this Spring.
---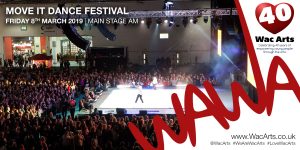 Move It Dance Festival
[list type="dot"]
[list_item]Friday 8th March 2019 – Main Stage AM[/list_item]
[list_item]Wac Arts' young dancers perform an Afro Fusion piece choreographed by Patience J[/list_item]
[list_item]This event is off site at the Excel Centre, as part of Move It 2019[/list_item]
[list_item]Ticket price £19 online: www.moveitdance.co.uk/tickets[/list_item]
[/list]
---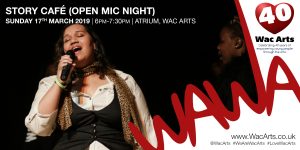 Story Café (Open Mic Night)
[list type="dot"]
[list_item]Sunday 17th March 2019 @ 6pm – 7.30pm[/list_item]
[list_item]Atrium at Wac Arts[/list_item]
[list_item]The young producers from the Youth Voice project curate an Open Mic Night for the Wac Arts Community[/list_item]
[list_item]To reserve your tickets please go to www.eventbrite.co.uk/e/story-cafe-open-mic-night-tickets-57089118089[/list_item]
[list_item]This event is open to friends and family[/list_item]
[/list]
---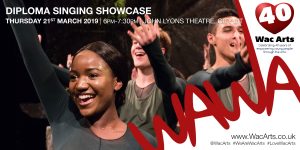 Diploma Singing Showcase
[list type="dot"]
[list_item]Thursday 21st March 2019 @ 7pm – 8pm[/list_item]
[list_item]John Lyons Theatre, City Lit[/list_item]
[list_item]This exciting event showcases our final year Diploma students singing a range of solos, duets and ensemble pieces from music theatre, classical and popular repertoire. The evening features choreography by Sundeep Kent and accompaniment by musical director Dai Watts[/list_item]
[list_item]To reserve your tickets please go to www.eventbrite.co.uk/e/wac-arts-diploma-singing-showcase-tickets-57088805153[/list_item]
[list_item]This is event is open to the public[/list_item]
[/list]
---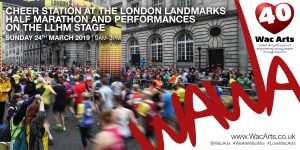 Cheer Station at the London Landmarks Half Marathon
and performances LLHM Stage
[list type="dot"]
[list_item]24th March 2019 9am – 3pm[/list_item]
[list_item]15 runners will take part in the Half Marathon run through the city of London supporting Wac Arts with the aim of raising substantial funds to support Wac Arts and the exceptional programmes that are delivered to support young people[/list_item]
[list_item]The Wac Arts will have a Cheer Station to celebrate Wac Arts and support the runners[/list_item]
[list_item]10.10 – 1.15pm: There will be a 30 minute performance on each stage from young people from across our programmes[/list_item]
[list_item]Free entry and no ticket required[/list_item]
[/list]
---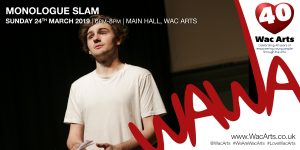 Monologue Slam
[list type="dot"]
[list_item]Sunday 24th March 2019 @ 6pm – 8pm[/list_item]
[list_item]Main Hall at Wac Arts[/list_item]
[list_item]Our up and coming artists from Senior Wac Arts who are venturing into the industry will have the opportunity to perform at the Monologue Slam. The 2nd level drama students will open the slam with a sharing of selected scenes of their best work[/list_item]
[list_item]Age restriction 14+[/list_item]
[list_item]To reserve your tickets please go to www.eventbrite.co.uk/e/wac-arts-monologue-slam-tickets-57088406962[/list_item]
[list_item]This event is open to friends and family[/list_item]
[/list]
---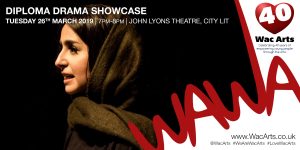 Diploma Drama Showcase
[list type="dot"]
[list_item]Tuesday 26th March @ 7pm – 8pm[/list_item]
[list_item]John Lyons Theatre, City Lit[/list_item]
[list_item]Monologues and scenes sewn together with excerpts from Bash by Neil LaBute[/list_item]
[list_item]Age restriction 14+[/list_item]
[list_item]To reserve your tickets please go to www.eventbrite.co.uk/e/wac-arts-diploma-drama-showcase-tickets-57086444091[/list_item]
[list_item]This is event is open to the public[/list_item]
[/list]
---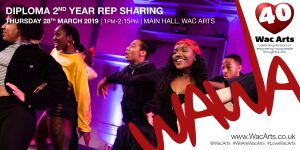 Diploma 2nd Year Rep Sharing
[list type="dot"]
[list_item]Thursday 28th March 2019 @ 1pm – 2.15pm[/list_item]
[list_item]Main Hall at Wac Arts[/list_item]
[list_item]The 2nd year sharing showcases the last 10 weeks of our student's rep study and intertwines Indian Classical Singing and Lindy Hop dancing with the theatre piece The Cinderella Waltz[/list_item]
[list_item]To reserve your tickets please go to www.eventbrite.co.uk/e/second-year-rep-sharing-tickets-57083842309[/list_item]
[list_item]This is event is open to the public[/list_item]
[/list]
---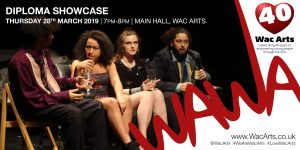 Diploma Showcase
[list type="dot"]
[list_item]Thursday 28th March 2019 @ 7pm – 8pm[/list_item]
[list_item]Main Hall at Wac Arts[/list_item]
[list_item]An evening of monologues, song and dance with a pre show reception to welcome our audience. The best pieces of work have been selected to be performed by the final year Diploma students in this vibrant showcase. The showcase will be supported by our 2nd yr Diploma students[/list_item]
[list_item]To reserve your tickets please go to www.eventbrite.co.uk/e/wac-arts-diploma-showcase-tickets-56993965485[/list_item]
[list_item]This is event is open to the public[/list_item]
[/list]
---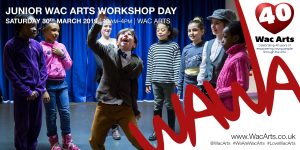 Junior Wac Arts Workshop Day
[list type="dot"]
[list_item]Saturday 30th March 2019 11-4pm[/list_item]
[list_item]Instead of normal classes participants of the Junior Wac Arts are invited to join a selection of workshops. This is a great opportunity to try something new! The Atrium will also have a selection of Easter themed arts and crafts and a cake sale[/list_item]
[list_item]All workshops are free except Aerials. This will be £2 for 40 minutes if you have paid for the term at JWA and £5 if you have not paid for a term at JWA[/list_item]
[list_item]To reserve a place class participants or parents/carers must email Jitendra.Kulkarni@WacArts.co.uk[/list_item]
[list_item]This is first come first served and there will be a waiting list[/list_item]
[/list]
[list type="star"]
[list_item]Drumming and Percussion Workshop 10:30am-12pm (2x 45 minute sessions, 20 participants per session)[/list_item]
[list_item]Drama Workshop 11am-12pm (25 participants)[/list_item]
[list_item]Fencing Workshop 12pm-1:30pm (25 participants)[/list_item]
[list_item]Bollywood Dance Workshop 12:15pm-1:45pm (30 participants)[/list_item]
[list_item]Fun Funky Dance Workshop 2pm-3pm (25 participants)[/list_item]
[list_item]Aerial Workshop 1 2pm-2:40pm (12 participants)[/list_item]
[list_item]Aerial Workshop 2 2:40pm-3:20pm (12 participants)[/list_item]
[list_item]Aerial Workshop 3 3:20pm-4pm (12 participants)[/list_item]
[list_item]Easter Arts and Craft Workshop and Cake Sale all day[/list_item]
[/list]
---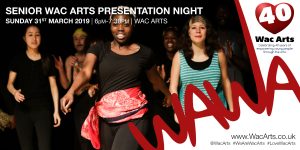 Senior Wac Arts Presentation Night
[list type="dot"]
[list_item]Sunday 31st March 2019 6pm – 7.30pm[/list_item]
[list_item]£3 payable on the door[/list_item]
[list_item]Money from ticket sales will support SWA, keeping classes subsidised for all.[/list_item]
[list_item]This performance will take place in the Atrium and the Main Hall[/list_item]
[list_item]Drama, Dance, Music, Singing, Physical theatre, Aerial, Film, Music tech all share their work from the classes of the last year plus certificates and awards to celebrate the participant's achievements[/list_item]
[list_item]To reserve your tickets please put down your name at the SWA reception desk or email Jitendra.Kulkarni@WacArts.co.uk[/list_item]
[list_item]This event is open to friends and family[/list_item]
[/list]
---
Camden Networking Breakfast
[list type="dot"]
[list_item]11th April 2019 8.30am-9.30am[/list_item]
[list_item]Our quarterly event invites our Wac Arts Community, cultural and youth organisations from Camden and local business to join us for breakfast. This breakfast will focus on the Heritage and Youth Voice Projects that are currently running at Wac Arts with a chance for our community to find out more and hear from the participants of the projects[/list_item]
[list_item]To reserve your tickets please email Marketing@WacArts.co.uk[/list_item]
[list_item]This is event is open to the public[/list_item]
[/list]