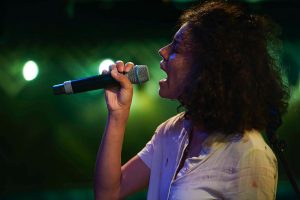 Anoushka Lucas is a singer, songwriter and composer for theatre. Her music has been championed on BBC Radio 2, BBC Radio 4 & Jazz FM. Anoushka's debut album is set for release in April 2019.
As a composer, Anoushka co-composed an original score for Klook's Last Stand and The Etienne Sisters (2015, Theatre Royal Stratford East), both by Ché Walker. Anoushka also composed and performed in Sparks (2018, Edinburgh Festival, Winner of Best Musical) by Jessica Butcher. Anoushka is a founding member of Trip, a new musical theatre company, alongside Jessica Butcher and Jessica Edwards and as supported artists of Shoreditch Town Hall, they are currently developing a new musical entitled Canon. Anoushka is also developing an Untitled London Musical with playwright Somalia Seaton, with the support of the National Theatre. As an actor, Anoushka played Mary Magdalene in the Olivier Award winning production of Jesus Christ Superstar at Regent's Park Open Air in 2016 and is just about visible in Kenneth Branagh's Murder on the Orient Express (2017) and Been So Long (Netflix, 2018).
As well as all of the performing, writing, filming and all the other things the amazingly talented Anoushka is up to she also finds the time to teach our young singers on a Sunday!
We met us with Anoushka after her quick run from the station to find out the answer to our burning questions "Why Does Wac Arts Matter"…
HB: How did you become involved with Wac Arts?
I became involved in Wac Arts through Che Walker. I met Che when I was 22 and he invited me to write some songs for a show he was developing at The Bush. After that I ended up collaborating with him multiple times, in many different capacities – and every time we needed a room to rehearse or work things out in, we would come to Wac Arts. We rehearsed the whole of my first show Klook's Last Stand at Wac Arts, which I co-wrote the music for with Omar, and I realised what an extraordinary place Wac Arts was. I also realised how many of the great people I was crossing had studied there or taught there at some time. It's a hotbed of talent. I feel really privileged to be teaching singing here now!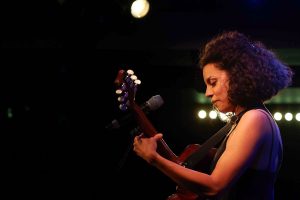 HB: Please share with me a favourite story/ memory from your time at Wac Arts?
I just totally love my students. Their passion, brilliance, dedication and hard work inspires me every single week. That is what music is and what music needs.
HB: What do you like best about the building, the Old Town Hall?
Steve Medlin will kill me for saying this, but the best thing about the building is that I can run from the tube station to the building in under 3 minutes.
HB: Why does Wac Arts matter to you, the young people who attend and to today's society?
Where to start. I've been lucky enough to make a career in theatre and music. The only reason this has happened is because my parents scrimped and fought to give me and my sisters a musical education – I wouldn't be the same me if I hadn't had a good piano teacher and singers around to encourage me. The idea that quality arts education should only be accessed by those already in a position of social privilege makes me so angry. EVERYBODY should be allowed to explore the multiple forms of expression that are possible, EVERYBODY should be allowed to pursue their talents and their interests. When we empower EVERYBODY to consider themselves a storyteller or a creator, then we make space for new stories to come through and we move towards a more equal society for all. Wac Arts and what it stands for are a bastion of goodness.
HB: What are you currently working on outside of Wac Arts? Plug away!
My album is coming out on April 12th! I'll be going on tour in April, and I've just announced the fact that I'm supporting Tom Oddell as part of the Brits Week, so that's fun. Other than that, I'm working with my theatre company TRIP, we are developing our follow up musical to "Sparks", which we won Best Musical of the Edinburgh Fringe with last year, and Klook – my old show with Che Walker – is enjoying a bit of a renaissance in the US. It's a busy but fun year.
HB: And finally please leave a Birthday Message for Wac Arts…
To quote Stevie Wonder:
"There ought to be a time that we can set aside to show just how much we love you.
Happy Birthday to you!"
HB: Thank you Anoushka! Good luck with all the amazing things you have going on in 2019.
As part of the 40th Birthday Celebration Year the Marcomms team will be catching up with members of the Wac Arts community to find out why Wac Arts matters to them. Keep an eye on the website and on Wac Arts socials for more interviews, news and opportunities.