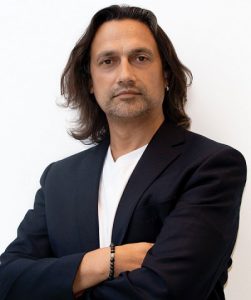 Darius joins Wac Arts at an exciting time of growth as the organisation announces capital development plans and the annual arts and events festival returns to the Old Town Hall in July 2019.
Darius Khwaja is currently the Principal and CEO of the London College of Creative Media (LCCM), a specialist higher education college for music, writing and entrepreneurship. Having co-founded LCCM, he led and grew the organisation for 16 years from 2003 to 2019. Darius is a committed higher education specialist with a passion for creativity. He has spent over 25 years in arts and music organisations. His accomplishments include nurturing award-winning artists such as the 2019 Brit Award winner Tom Walker and contributing significantly to the successful development of the Music Box in Southwark, a £34m new building for LCCM.
Elizabeth Cleaver, Wac Arts Chair states on behalf of the Board:
"The Board of Wac Arts is delighted to announce that Darius Khwaja has accepted the role of Chief Executive and will start on July 1st. Darius is joining the organisation at a pivotal time as we prepare to make the next big step in our plans as a community and creative hub. We are articulating an artistic vision to attract increasing numbers of young people from across London, raising the money to deliver our master plan to transform the building, and seeking further commercial which enhance the financial sustainability of Wac Arts."
Having firmly established LCCM, Darius is now keen to take on new challenges and is therefore delighted to have been appointed as the Chief Executive of Wac Arts.
On his appointment, Darius said:
"The opportunity to lead Wac Arts, an organisation with a 40-year history of improving the lives of young people through the arts, is both an exciting opportunity and a great honour. My vision and values align closely with Wac Arts. Dedicating my energy and experience to the advancement of this shared vision is an opportunity I relish."
To find out more about Wac Arts and the upcoming events in the Old Town Hall please contact Marketing@WacArts.co.uk.