Since 2005, Wac Arts have collaborated with the Jack Petchey Foundation. Each year we recognise the fantastic achievements of our young people and those tutors who encourage and support them. Young people lead the nomination process, putting forward those they think should be recognised and receive an award.
This year our young people put forward a host of excellent nominations for the Leaders Award, recognising the tutors that continue to inspire them.
We are delighted to share that Drama Tutor, Ayodele Oyelami received the most nominations. Ayo has been part of the Wac Arts community for more than 25-years. As a young person, she was a student on our Arts Programme. Later her daughter joined us and now even her granddaughter attends some of our Saturday classes!
Ayo has taught generations of young people at Wac Arts, from our weekend classes and holiday projects, as well as those young people with additional needs accessing our Short Break Services.
Ayo's dedication to Wac Arts' young people shines through in her work. The young people clearly recognised her energy, enthusiasm and thoughtfulness in their nominations:
"She is the best drama teacher, and she engages with us on all activities".
"Her classes are fun, interesting and have really helped with building confidence. I look forward to her class every week".
From all the team at Wac Arts, thank you and congratulations Ayo.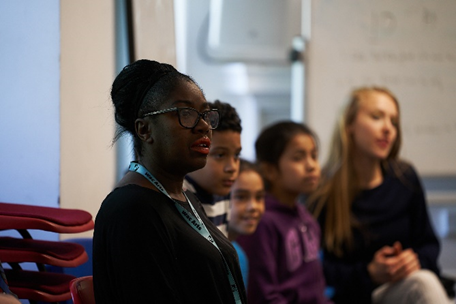 Ayo was selected as the 2023 Leader Award recipient,
Congratulations!