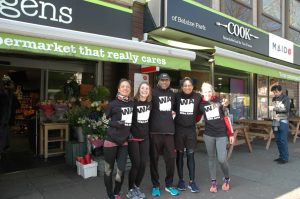 We are delighted to be taking part in the London Landmarks Half Marathon once again this year, with a team of fifteen runners who will be raising money for Wac Arts. The London Landmarks Half Marathon (LLHM) is a unique running event leading around the City of London, passing iconic landmarks such as the Shard, Somerset House and ending outside Downing Street. It was set up the baby charity Tommy's who wanted to create an event that would benefit both themselves and many other charities too – including Wac Arts!
Our team is now finalised and well into their training – we are delighted that our team is made up of a range of supporters of our work, including staff members (and their family!), a trustee, a consultant and members of the public who like our vision of empowering young people through the arts!
The team will be gathering together for the first time on Sunday 10th February, for our February Fun Run! We invite all the runners in our community to join them for this training session, starting here at Wac Arts at 2pm. The run will go around Hampstead Heath, and will take about an hour. If you would like to take part, please email Zoe.Dowler@WacArts.co.uk.
If you can't make it to the February Fun Run (or you're just not a runner!), there are still ways you can get involved. We will be looking for some enthusiastic cheerers to join us on the sidelines on March 24th, and of course encourage you to make a donation to our runner's pages – they are running for us to raise money after all! You can find the campaign page at https://www.justgiving.com/campaign/teamwacarts2019
Be sure to keep an eye out for more information about our cheer station and to find out more about our runners in their upcoming interviews!