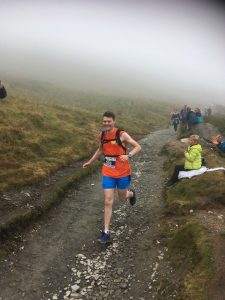 The London Landmarks Half Marathon 2019 is fast approaching, and all our runners are busy training to make sure they're ready! Team Member Owen Turner took a break from training to answer a couple of questions for us ahead of the big day. Owen is an avid runner and has recently joined our Reception Team – we're delighted that he's decided to fundraise for us after only knowing us for a short time!
What is your relationship with Wac Arts?
I've recently joined the Reception Team.
What does Wac Arts mean to you?
While sitting at the reception desk, I see first-hand all the smiling happy people as they come for their classes, as well as the passion and enthusiasm that my fellow staff-members put into organising all the wonderful activities and events.
Have you ever taken part in a Half Marathon before?
I ran the Anglesey Half last year, and very soon will have run the Dartmoor Trail Half too!
What will be the first thing you want to do when you finish the race?
Catch my breath…then grab a well-deserved pint!
What made you take part in the London Landmarks Half Marathon?
I'm a keen runner, but haven't run for a charity before. This is a win-win for me!
What is your training schedule?
3 shorter maintenance runs in the week, one being a speed run. 1 strength session at the gym. 1 long stamina run at the weekend.
The event is described as "not your average half marathon! From cultural landmarks and heritage to the city's quirky and hidden secrets, runners will get to explore the capital on a route like no other!"
What excites you about taking part in the London Landmarks half Marathon?
I'm excited to finally do a run in London, I've heard the atmosphere is buzzing!
What time are you hoping to complete the race in?
As long as I keep to the training: under 2 hours.
How much are you hoping to raise?
As much as I can over £500!
What's your favourite running tune?
I don't usually run with music, but when I do it's usually a heavy metal power ballad so I can smash through the wall!
Last but not least, do you have a 40th Birthday message for Wac Arts?
Wow! Hope I look this good when I'm 40! 🙂
You can sponsor Owen by heading over to his JustGiving page. Huge thank you to Owen for donating your time to take part in the race!