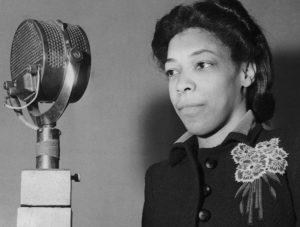 Una Marson was a Jamaican feminist, activist and writer. She was employed by the BBC in 1932, and became their first black producer.
Hampstead-based Una has a strong connection to our building because she volunteered here as an air raid warden 'in her spare time' during the World War 2. However, she is more famous for producing the seminal BBC West Indian service on Caribbean Voices. At the 'Beeb', she worked closely with two other writers connected to Hampstead Old Town Hall, TS Eliot and George Orwell.
Caribbean Voices was groundbreaking and during the life of the series around 400 stories and poems were broadcast involving over 370 contributors, 71 of whom were women. An intellectual heavyweight with extraordinary creativity and ambition, Una Marson succeeded in fulfilling her aspiration 'to showcase authentic storytelling that empowered marginalised authors, representing their respective communities' . Today, many credit the programme as a catalyst for launching Jamaican literary criticism and Caribbean Anglophone writing . Her commitment to creating a forum for marginalised communities, in the face of racist and misogynistic obstacles, allowed her to establish a platform that continues to help contemporary black voices to be heard.
You can read more information on the BBC's website or an article about Patrick Swanzy can be seen on Caribbean Beat.