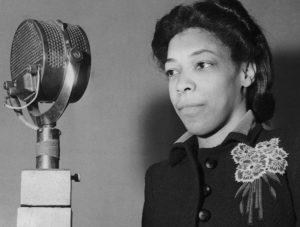 Una Marson was a Jamaican feminist, activist and writer and was employed by the BBC in 1932, becoming the first black producer at the BBC.
She produced the seminal BBC West Indian service on Caribbean Voices and worked closely at the 'Beeb' with two other writers connected to Hampstead Old Town Hall, TS Eliot and George Orwell. But Hampstead-based Una had another connection to our building – she volunteered here as an air raid warden 'in her spare time' during the War.
Una Marson was an intellectual heavyweight with extraordinary creativity and ambition, as were many others who sadly seem to have been largely forgotten by history.
Even so, the role played by Caribbean Voices as a catalyst for launching Jamaican literary criticism and writing in English should not be understated – during the life of the series around 400 stories and poems were broadcast, its forum home to over 370 contributors, 71 of whom were women.
The responsibility of running Caribbean Voices fell to an Irishman, Patrick Swanzy, although he needed to work closely alongside a Jamaican couple, Gladys and Cedric Lindo, who were responsible for selecting submissions suitable for broadcast. Without them the show may not have had such success, or may not have existed at all.
The selected writers were welcomed by Swanzy to his Hampstead home, where he would hold regular social evenings, inviting them to the BBC headquarters, and introducing them to valuable contacts in London's art scene.
You can read more information on the BBC's website or an article about Patrick Swanzy can be seen on Caribbean Beat.