Drama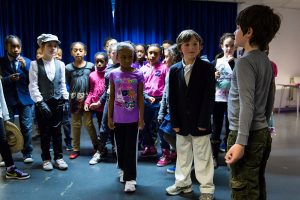 Age based classes for:
Years 1&2 : 30 mins
Years 3&4: 45 mins
Years 5, 6&7 : 1 hour
Years 8, 9&10 : 1 hour 30 mins
Fees
£2.00
About the classes
Drama is offered to children and young people between the ages of five and fourteen in a selection of age appropriate classes. Our drama classes explore improvisation, drama techniques and the 'rules' of acting, drama games and exercises.
The younger groups focus on fun and drama games. They learn important improvisational skills and are encouraged to relate to their new friends in class. All classes encourage creativity and develop communication and leadership skills through creative tasks.
As our young people progress, they have the opportunity to evaluate their own work, giving space to think about and consider the skills learnt. Classes also work on performance both from the perspective of the audience and the performer.
Throughout, our students will learn the drama basics and have a greater understanding of dramatic techniques and skills. They learn to share ideas and to be creative whilst working collectively as a group and also as an individual. For all drama classes there is always a strong emphasis on self-discovery and having fun!