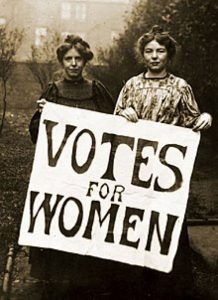 Women's Rights – Suffragettes at the Old Town Hall
The suffragettes were founded in 1903 by Emmeline Pankhurst. Their aim was to fight 'with deeds not words' for women to be allowed to vote in this country. Members of the suffragettes were prepared to use militant action, including violence, to get what they wanted. Some of their actions included going on hunger strike, throwing themselves under the King's horse at the races, vandalising Oxford Street and even chaining themselves to Buckingham Palace (the Royal Family were against women being allowed to vote).
Hampstead Town Hall was a playground for suffragette activity over the years, from suffragette meetings taking place to weddings and even public speeches. In 1913 Emmeline Pankhurst spoke at the Old Town Hall, an undercover policeman was in the audience and noted down everything that was said as he knew it would be of great importance. He sent his report to Special Branch of the police and the original copy is kept in the National Archives in Kew, London. Just down the road, the suffragette movement bombed a post office box (now a listed landmark).
The article Emmeline Pankhurst Day: our records on women's suffrage by Vicky Iglikowski states;
"The range of records we have relating to the women's suffrage movement is vast, from medical reports on hunger-striking suffragettes to newspaper clippings on arson attacks, collected by the Home Office. Although our records come from a government perspective, a surprising number include suffrage supporters' own words, through pamphlets seized by the police or even verbatim speeches captured by undercover officers.
In 1913 when Emmeline Pankhurst spoke at the Hampstead branch of the WSPU at Hampstead Town Hall the full text was recorded in a Home Office file on Suffragettes' activities and meetings. The meeting was opened by Henry Nevinson, founding member of the Men's League for Women's Suffrage, who firstly spoke about how he believed women had been betrayed by the government. Pankhurst then spoke, justifying the use of militant means"
'And I want you, not to see these as isolated acts of hysterical women, but to see that it is being carried out on a plan and that it is being carried out with a definite intention and a purpose'
Emmeline Pankhurst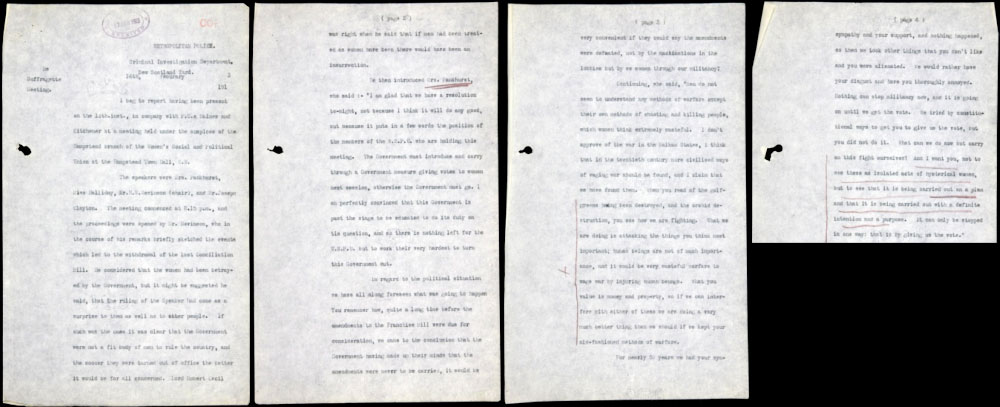 The suffragette Margret Wynne Nevinson even got married in the Old Town Hall to Henry Nevinson (who had co-organised the 1913 meeting where Emmeline Pankhurst spoke). Margaret Wynne-Nevinson wrote a radical (for the time) play where all 8 characters were women – unheard of at that time in history. The play was called In the Workhouse and deals with issues such as poverty and having children outside of marriage.
A range of other suffrage events were held at the Old Town Hall throughout the last 100 years which included London's first woman councilor Reina Lawrence being elected in 1907 in the Old Town Hall. In March 1911 a discussion was hosted by WSPU (Women's Social & Political Union) about ''Women and The Census''. An interfaith suffrage meeting was held here in October of 1913 and a Womens Lib open meeting in July 1971.
In 1918 the efforts of the Suffragette movement finally had a major breakthrough when a bill was passed through Parliament which granted women over 30 who owned their own property to be able to vote. This enfranchised 8.4 million women!! Ten years on in 1928 all women received the same voting rights as men.
The brave actions of the suffragettes paved the way for future generations of women. The whole movement, especially Emmeline Pankhurst will be remembered as courageous and strong for standing up for what they believed in.
The Old Town Hall's rich history of being involved in women's rights and the fight for equality is one we are very proud of here; and we hope our building can continue to play a role in fighting for equality of opportunity for all.