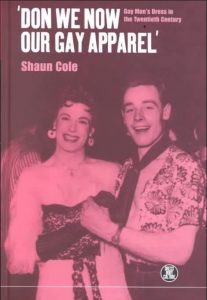 Hampstead Goes Gay – Hampstead Arts Balls and LGBT Hampstead
– In Conversation with Chris Barlow Tuesday 13th November 2018
Between 1947 and 1955 Hampstead Town Hall hosted a series of fancy dress balls arranged by the Hampstead Arts Society. The first one was announced in the Sphere newspaper under the headline "Hampstead Goes Gay." A Pathe news reel of the 1951 masked ball shows a bare-chested man wearing tights and glittery eye makeup, a man in a shimmering dress and a panning shot of some fish net stockinged legs which travels up the body to reveal the person you are looking at is male. The unfazed, ever-jaunty narrator states: "And if any of you girls want to know where to get stocking like that, we don't know his address."
The final ball was held 11th March 1955, after the Council stated that: "We are taking steps to ensure that in any future use of the Town Hall, there will be no repetition of certain circumstances and incidents which occurred on that occasion," (Hampstead Council minutes, April 1955).
Given the proximity of Hampstead Heath to the Town Hall, which would indicate a rich gay heritage of Hampstead, were these balls a daring and potentially dangerous opportunity for the LGBT community of Hampstead to express themselves?
In the early parts of the 20th Century, life was extremely dangerous for the LGBT community, with few opportunities for safe expression. Expressing your sexuality in public was a risk which could lead to prison, as until the Sexual Offences Act of 1967, homosexuality was illegal in the UK.
A secret language evolved (Polari) in order to communicate safely within the community and certain references dropped into conversation would act as alerts to other members that you were a fellow 'member'. Fancy dress has long been an LGBT subculture; and cap was a weapon. For the LGBT community there was a growing excitement in the clandestine. Private gay clubs in the West End began to be established. Russell Square became known as a central cruising area, which – like areas of Soho – was to a degree tolerated by the Police.
Many positive changes in society originated in the LGBT community, a community of change-makers, for example, club and dance culture as well as radical politics.
The more opportunity the community had to express themselves together, the more that community would have been eager for change.
In the build up to the passing of the 1967 Sexual Offences Act, there was a build up of a critical mass wanting social reform towards a more liberal and tolerant society. Sympathies with the LGBT community on Hampstead Council could be tipped one way or the other, with the change of just a few liberal or illiberal councillors. The unique opportunity that these balls afforded, was that they were held in the same building which operated local government, giving potential access to local councillors. In Hampstead you could find people who might be ambassadors for change. These balls would have had well connected people at them and one can imagine that it would be a good place for someone from the CHS (Campaign for Homosexual Equality) to subtly lobby a local councillor.
In fact, Leo Abse was the politician who pushed through legal amendments leading to the adoption of the 1967 act and he had many connections to Hampstead ( his brother, Dannie Abse, ran poetry and Jazz session at Hampstead Town Hall from 1963.
The balls would also have been an opportunity to express yourself in a safe environment, to show the world who you were and to play with the thrill of playing with expectations and shaking up societal norms.
Given that Hampstead had proved such a fertile and safe ground for the development of the suffragette movement, one can also imagine that politicised Hampstead women, keen to continue with their social reform activity, might have felt a worthy cause could be found in supporting the LGBT community.
Even though the Council refused the Hampstead Arts Society's request to hire the Town Hall in 1956 (Hampstead Council minutes, April 1955) it in many ways continued to be a place supporting change. In 1974, just 7 years after the 1967 Sexual Offences Act was passed, Hampstead Town Hall hosted a Gay Liberation Front Disco.
Going further:
The Hall Carpenter Archives at LSE Library.
The London Metropolitan Archive has a good collection of materials detailing LGBT history.
The Bishopsgate Institute holds an LGBT archive.
Archive quotes:
[pullquote]"Hampstead goes gay: A Victorian group at the Hampstead Arts Ball held at Hampstead Town Hall. This was a "for artists by artists only affair and it had a mid-Victorian theme. For the occasion the young Hampstead artists transformed the dance-hall with their own frescoes."[/pullquote]
[pullquote]"The Man with a medal in a prominent position called his Victorian sports costume "The retreat from mons." His was only one of many weird and wonderful disguises displayed at the Hampstead Arts Ball held at Hampstead Town Hall. Hampstead art students worked on the Town Hall decorations, led by Count Toni del Renzio, a young surrealist painter, doing the whole work at a cost of less than £10."
The Sphere – Saturday 31 May 1947[/pullquote]
[pullquote]"Another dress occasion was the Hampstead Arts Society Ball held at the Town Hall. The early part of the evening was evidently one of those dancing occasions when people trod on your toes and you graciously pretended not to notice. Then turning their attention to astronomy they held a heavenly body contest and picked the twinkling star Christine Norton as one of the judges. It certainly was a glittering parade as the contestants made their celestial appearances. And when the judges picked the winning trio they formed a perfect constellation. Winner of the male contest was certainly nothing if not glamorous. And if any of you girls want to know where to get stocking like that we don't know his address."
Pathe News Reel, 1951[/pullquote]