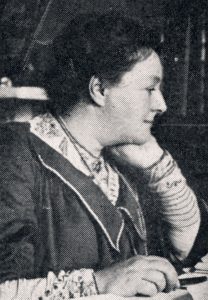 Hampstead has produced numerous trail-blazers. One of the most notable was Reina Emily Lawrence. In 1907 Reina became the first woman to win a seat on Hampstead Borough Council. This made her the first woman councillor in London and one of the first in the whole of the country.
Reina was born in New York, one of nine children, and came from a prosperous family. In 1881, the family moved to 37 Belsize Avenue, close to the newly-opened Town Hall. In 1893 Reina obtained an LLB (Bachelor of Law) degree, one of the first women to do so. She was keen to become involved in local affairs but at the time opportunities for women in local government were severely limited. In 1905 she volunteered to serve on the Hampstead Distress Committee, set up to help unemployed people before the arrival of the Welfare State. Women were allowed to vote in local council elections but could not stand as councillors until The Qualification of Women Act was passed in 1907. In December 1907 a by-election was called in Belsize Ward. Reina seized the opportunity to stand in the election. She was supported by the Hampstead branch of the Women's Local Government Association.
In her election address Reina listed her interests as housing, swimming baths and infant mortality. To calm voters' fears of female radicalism, she stressed that she was not a Suffragette. Reina was elected with a healthy majority of 319 votes and went on to serve on the Council's Baths, Distress, Public Health and Works committees. Surprisingly, the council's minutes of the period do not make any reference to her being the first elected women councillor.
Reina stood for re-election two years later, but lost her seat by just six votes. All the same, the principle of having women councillors had been firmly established by Reina who is reported as having said "no terrible revolution" had occurred.
In 2008 Reina was honoured for her ground-breaking contribution to women in London's local government by a special exhibition staged by Camden Council. The London Assembly has put forward a shortlist of 100 prominent women who deserve to be remembered with an English Heritage blue plaque. The list of nominations includes Reina Lawrence. A blue plaque at the site of her former Belsize Avenue home would certainly be a fitting way to mark the pioneering achievement of Hampstead's, and London's, first woman councillor.
This article was written by a member of U3A using material from John Partington, a relation of Reina Lawrence, as well from minutes of Council Meetings which took place at Hampstead Town Hall. These minutes are held at Camden Archives.