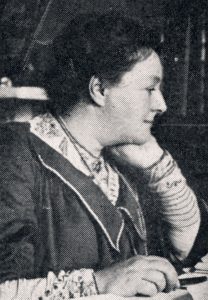 Pioneering Reina Lawrence was Hampstead's – and London's – first woman councillor
By Stephen Barry a member of University of the 3rd Age based at Wac Arts in the Old Town Hall
Hampstead has produced numerous trail-blazers in a variety of fields, with one of the most notable being Reina Emily Lawrence.
When Reina became the first woman to win a seat on Hampstead Borough Council, in 1907, she also became the first woman councillor in London and one of the first in the whole of the country.
Reina, who was born in New York, one of nine children, came from a prosperous family. Her mother, Emily, was born in Spanish Town, Jamaica, with her father John Lawrence supporting the family by living off his investments.
By 1881, the family had moved to 37 Belsize Avenue, where Reina lived for most of her life, close to the site of the newly-opened Town Hall building.
She was a bright girl and went on to study law at University College in London. In 1893 she obtained an LLB (Bachelor of Law) degree, one of the first women to do so.
Reina was keen to become involved in local affairs but at the time opportunities for women in local government were severely limited. This failed to deter her and in 1905 she volunteered to serve on the Hampstead Distress Committee, which had been set up to help local unemployed people before the arrival of the welfare state.
At the time women were allowed to vote in local council elections but could not stand as councillors. However, in 1907 the Qualification of Women Act was passed in Parliament. This meant that women ratepayers – including widows and single women from the middle and upper classes – could for the first time be elected to Borough and County Councils.
In December 1907 a by-election was called in Belsize Ward, where Reina and her family lived. Building on the experience she had gained by serving on the Hampstead Distress Committee she seized the opportunity to stand in the election and put her name forward as a candidate. She was supported by the Hampstead branch of the Women's Local Government Association, which was fighting for female representation on councils throughout the country.
In her election address Reina listed her interests as housing, swimming baths and infant mortality – which was quite high at the time. What may seem strange today, she said she would work harmoniously with her fellow male councillors.
In an effort to calm voters' fears of female radicalism or extremism, she stressed in her election address that she was not a Suffragette. At the time the Suffragettes were gaining headlines with their often-violent campaign to allow women to vote in Parliamentary elections, something that was not achieved for women aged over 30 until after the First World War.
Reina was elected with a healthy majority of 319 votes, despite a low turnout, and went on to serve on the council's Baths, Distress, Public Health and Works committees. Surprisingly, the council's minutes of the period do not make any reference to her being the first elected women councillor.
Her time as a councillor was quite short. She stood for re-election two years later, in October 1909, this time supported by the quaintly-named Hampstead Non-Political and Progressive Association, but unfortunately lost her seat by just six votes.
Two other woman candidates also stood for election to Hampstead Council that year but only one was elected. Despite this, the principle of having women councillors had been firmly established by Reina who is reported as having said "no terrible revolution" had occurred.
In 2008 Reina was honoured for her ground-breaking contribution to women in London's local government bya special exhibition staged by Camden Council, the successor to Hampstead Borough Council.
In March this year, the London Assembly, at its annual International Women's Day event, put forward a shortlist of 100 prominent women they said deserved to be remembered with an English Heritage blue plaque. Assembly member Claudia Jones said "The iconic Blue Plaques are an important way of recognising the contributions of those who lived in London." She pointed out that only 132 of the capital's 944 blue plaques feature a woman.
Alongside suffragette Emily Davison, Princess Diana and the murdered television journalism Jill Dando, the list of nominations included Reina Lawrence. A blue plaque at the site of her former Belsize Avenue home would be a fitting way to mark the pioneering achievement of Hampstead's, and London's, first women councillor.