Although Hampstead's first woman councillor was elected in 1907, it wasn't until 23 years later that the council could boast its first female mayor.
Distinguished physicist Jesse Mabel Wilkins Slater, who was born in Hampstead in 1879, began the first of her two terms as the borough's mayor in 1930.
She had had a distinguished career before entering local government. Educated at Cambridge University she went on to study at the University of London where she was one of the first women to earn a doctorate in science in 1906. She then returned to Cambridge where she was a lecturer in physics and chemistry from 1914 to 1926.
The outbreak of the First World War interrupted her teaching and research work and she served as a part-time nurse at British military hospitals in England and France from 1914 to 1917. The Biographical Dictionary of Women in Science explains that she was eventually conscripted into the military for full time duty as a radiographer, on the basis of her earlier research work into the latest scientific methods.
After marrying Harold Slater in 1926 Jesse gave up her full-time teaching job, as was expected of many married women at the time. She went on to devote herself to a variety of charitable work in Hampstead, including serving on local school care committees. She was also active in the Council of Unitarian and Free Christian Churches.
Jesse then decided to play an active role in local government, first being elected as a councillor and then serving as mayor of Hampstead in 1931-1932, followed immediately by a second term in 1931-1932.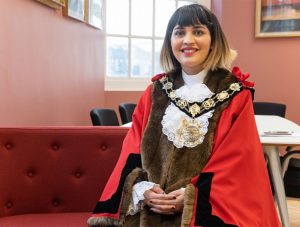 A succession of male mayors then took office followed until Ruth Carnegie became Hampstead's second women mayor in 1945. Like Jesse she also served for two terms.
When Jesse Slater died in 1961, in her 80s, she could look back upon a distinguished scientific and teaching career that was followed by a close involvement in the life of Hampstead. This included making her mark as the council's first female figurehead.