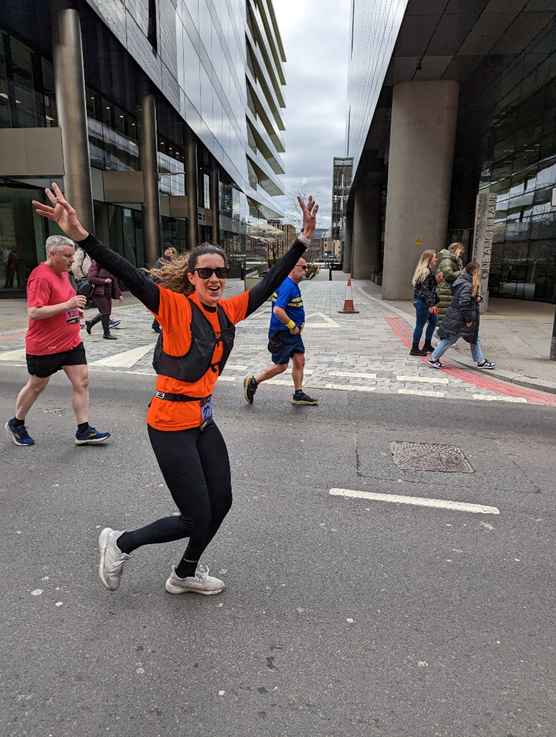 It's that time again, already! It's going to be bigger and better and we want you to be on the start line with Wac Arts in April.
This year we have 12 places available for the 2024 London Landmarks Half Marathon [LLHM] and once again require a fantastic running team for #TeamWacArts.
We had a fantastic LLHM 2023 with 10 runners taking part and supporting #TeamWacArts. Thank you to those that took part, their friends and families supporting them on the day and anyone who generously sponsored them throughout. We raised over £4,200! Help us achieve great things once again.
KEY INFORMATION
The event will take place on Sunday 7th April 2024.
The event is 13.1-miles – a closed road, central London run and is the only half marathon to go through both the City of London and City of Westminster.
£30 registration fee (you'll receive a running top, training advice and fundraising ideas).
We are asking each runner to pledge to raise a minimum of £500 (making a team target of £6000).
RUN FOR WAC ARTS
If you are interested in taking on the challenge next year, please use our online form or call 020 7692 5824 to find our more.
If you have any questions, please email Luke at luke.hull@wacarts.co.uk.
ALREADY GOT A PLACE?
If you're lucky enough to have secured a place directly from the race organisers through the public ballot, we'd love to welcome you to our team.
Do something with your place and support #TeamWacArts. There's no minimum fundraising target, just have fun and raise as much as you can.
Your support makes Wac Arts' work possible – thank you.
"Taking part in the 2023 London Landmarks Half Marathon for Wac Arts was an incredible experience and it was a pleasure running to support a cause close to my heart. The unwavering support and encouragement I received from the Wac Arts team during the training and on race day were truly uplifting and I am proud to have been a part of this impactful event. As we explore new avenues for corporate sponsorships, I am delighted that Accenture's participation in the events activity can contribute to Wac Arts' mission in nurturing local talent and fostering artistic expression." Accenture