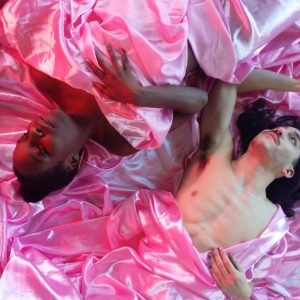 Meet an Artist
Happy International Woman's Day!
At Wac Arts we love to speak to our community and find out what they are up to when they are not visiting the Old Town Hall. Today as it is International Woman's Day we are checking in with Grace Nicol, a Wac Arts artist in resident who has been an avid supporter of the organisation for several years. We are looking forward to having a fruitful relationship in 2019, as Grace supports the women of Wac Arts through her performance platform Woman SRSLY.
Let's find out a bit more about Grace…
Grace is the Founder and Artistic Director of the performance platform, Woman SRSLY. Woman SRSLY aims to create a platform and support network for female identified and socialised female artists. To develop this practice further, Grace provides lectures for university programmes and mentoring for female artists; most recently Falmouth University and the MA programme at ArtEZ. Woman SRSLY champions bold new performance by female-identified and socialised female artists through platforms and networking support. The carefully selected evenings of interdisciplinary work spans film, dance, theatre, music, cabaret, Live Art and all-round femme power. Woman SRSLY aims to create a platform for artists to share their ideas and experiences. One review of Woman SRSLY stated, 'A feast of female inventiveness'. Grace is currently an Associate Artist at Dance Research Studio, member of Chisenhale Dance Space and has just completed her MA in Contemporary Dance at London Contemporary Dance School.
Her artistic practice has a particular focus on object-body relations and materiality, investigating juxtapositions and associations of objecthood and bodies to explore movement within socio-political contexts. The primary concerns of her work are place, gender and class boundaries.
Grace's work has been showcased across London in theatres, galleries and museums, including The Place, CentrE17, The Yard, Guest Projects, Hackney Showroom, the V & A Museum and has toured nationally and internationally, winning a Stockholm Fringe Young STOFF Award in 2015. Her participatory work has included; The London Bubble's 'Creative Homes' project with performances at the Albany, the InFlight and Diploma programmes at Wac Arts and one-off workshops at schools and universities.
Along with Chris Dudley, Grace is also the founder of Upright Fools, a company which offers creative marketing and press solutions for Arts projects. They provide content for individual artists as well as companies and theatres. This can be from as small as one project to designing and executing a campaign. Their past work has included creating campaigns for companies such as Richard Alston Dance Company, Camden People's Theatre and Vault Festivaland for individuals such as Theatre Practitioner Haley McGee, Dancer Valerie Ebuwa and Choreographer Jacky Lansley. Their bespoke campaigns, take a personal approach, offering artists the support they need for their individual projects. They also offer content creation for artists including; design, filming and photography, everything an artist needs to get their project noticed (www.uprightfools.com).
Grace has been awarded Arts Council Funding to support the development of Woman SRSLY as it strides through its 2nd year. Woman SRSLY has been gaining well deserved recognition as a pioneering pro femme communityin the arts that challenges gender representation. This funding will support the Woman SRSLY Platform, giving even more female identifying and socialised female artists the chance to perform to new audiences and be a part of this celebratory and necessary movement. The Woman SRSLY team will also be offering professional development workshops to emerging artists and will provide mentoring support to BAME female artists. The young people from Wac Arts will also benefit, as the mentoring opportunities and professional development workshops Woman SRSLY will be providing will be held at Wac Arts as part of the 40th Birthday events schedule.
We checked in with Grace to say congratulations on the recent funding success and find out a little about her relationship to Wac Arts…
HB: Hi Grace, Firstly CONGRATULATIONS!…so tell us how did you become involved with Wac Arts?
Grace: I first worked on In-Flight, an Aerial programme that developed performing arts tutors in this skillso that they could go onto use Aerial in their own practises. There was an immersive theatre style show at the end of the project, which saw the Aerial artists tumbling down the side of the Old Town Hall,it was brilliant! I then moved into the Marketing team to support the recruitment for the Full Time Programme (Diploma in Professional Musical Theatre). I am now still involved in an artistic capacity, taking part in the Wac Arts artist residency programme. This programme allows Wac Arts to support artists by gifting rehearsal space and sharing networking opportunities. Woman SRSLY will be providing workshops and mentoring for Wac Arts students.
Hayley: We are looking forward to youbeing a part of the 40th Birthday celebrations including the WAWA Weekender, the annual 3-day arts festival at Wac Arts in July. Please share with me a favourite story/ memory from your time at Wac Arts?
Grace: Steve Medlin teaching me how to fence in the corridor one evening!
Hayley: What do you like best about the building?
Grace: The conservatory (Atrium) – I love the light!
Hayley: Why does Wac Arts matter to you, the young people who attend and to today's society?
Grace: In the current climate of austerity, the arts are becoming less valued and less accessible. Therefore, Wac Arts is a vital to the community and to the arts, to support people who find it hard to take part to join in and create a new generation of diverse voices within the arts.
Hayley: What are you currently working on? Plug away!
Grace: I'm currently working on a piece of performance for Chisenhale Dance Space 'Between Generations' Commission and developing the performance platform Woman SRSLY for 2019. In fact,Woman SRSLY returns on the 14th March to take over The Place Theatre, bringing an evening of artists that span live art, film, dance, theatre, cabaret and all-round femme power. Takeover: Wildlife in Strange Waters will feature Fågelle a project from Swedish sound artist Klara Andersson. Woman SRSLY will support wild and wonderful performances that challenge gender representation including Hannah Ballou's work Shhh. Shhh raises issues that female performers encounter when attempting to continue to perform after becoming mothers, with support from her dancing dads, Jason Piper and Jon Chu. Further featured artists include; Lindy Nsingo with The Lindy Show, Becky Namgauds' Like Honey with music composed by artist Yael Claire Shahmoon and special guest performance by Lucy McCormick, described in The Scotsman as having 'the moves of Beyonce, the lungs of Christina Aguilera and the morals of a punk iconoclast'. As always, Woman SRSLY will feature the improvised hype girl stylings of resident movement girl band, The Yonis. Come along! It is going to be fun! https://www.grace-nicol.com/woman-srsly
Hayley: And finally, please leave a Birthday Message for Wac Arts…
Grace: SO much love to you Wac Arts! xxxx
Thanks Grace – we cannot wait to see the show on the 14th and work with you in 2019
As part of the 40th Birthday Celebration Year the Marcomms team will be catching up with members of the Wac Arts community to find out why Wac Arts matters to them. Keep an eye on the website and on Wac Arts socials for more interviews, news and opportunities.