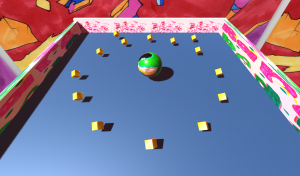 Bare Peas
"Healthy is Wealthy"
Award winning game is available for Camden Youth Organisations to test – for free!
The young people at Wac Arts have created a video game promote healthy living – much needed at a time when 13% of the world's adult population are classified as obese.
Wac Arts Urban Motivation are a group of 18-30 years olds who go to Wac Arts every Wednesday as part of the thriving disability and Inclusion programme at Wac Arts.
Understanding the need for young people to take healthy living seriously they have been developing a new physically active video game, Bare Peas, and are excited to share this at venues across Camden over the next two months.
Developed with high spec technology such as Soundbeam 6, the students have created the game from the ground up during weekly evening sessions and one intensive half term project. From game mechanics to graphics to sound they have all contributed to how they wanted their game to play, look and feel. They have been testing the game with friends and supporters of Wac Arts inviting them to Bare Peas gaming sessions where they have talked about the game, and have guided users through the process and have even provided soft drinks for those who were left out of breath and needing hydration after the bursts of fun cardio activity.
"We used the Bare Peas as a warm up tool for a staff away day at the Roundhouse. It was so much fun, really woke everyone up and had us all working together, laughing, cheering. Great to think we were getting fit at the same time! We will be using Bare Peas again!"
Hayley Butler, Head of Communications at Wac Arts
Would you like to play?
Wac Arts are inviting organisations that have a venues with large spaces to showcase Bare Peas and invite people from all over Camden to play, have fun and be healthy.
Ideally venues should have spaces that are 15m x 15m to accommodate the play area of Bare Peas and audience space. However there is scope for smaller spaces dependent on the number of participants.
Bare Peas requires technology including a projector and audio amplification to play, which Wac Arts can supply if your venue doesn't have access to these.
Bare Peas sessions will be facilitated by a minimum of one Urban Motivation student and one Wac Arts staff member, it can be played by up to 16 people at a time for certain team games and also has single player options.
Bare Peas is for all abilities and ages!
Please read our guide and watch our videos for an insight into how Bare Peas is played and promotes a healthy, active lifestyle.
Contact Chas Mollet, Assistive Creative Technology Officer on 020 7692 5879 or email Chas.Mollet@WacArts.co.uk