Less than three weeks till race day! To help with his training, we invited Running Team member Rob Black in to try out 'Bare Peas', the game being developed by our Over-18s group Urban Motivation to increase active minutes. Once he'd gotten his breath back, we asked him a couple of questions about what motivated him to take part in the London Landmarks Half Marathon for Wac Arts.
What is your relationship with Wac Arts?
It didn't exist until recently, but I heard about the organisation through a friend and I was really excited to hear that something like Wac Arts existed. Since then, I joined their LLHM running team I've been learning about some of the stuff they do to support young people in the arts – I'm really excited that soon I'll get to see some of it for myself!
What does Wac Arts mean to you?
Wac Arts for me is about leveling an (at present) uneven playing field and telling young people that a career/life in the arts doesn't have to be "just a dream".
It's also about encouraging young people to pick and pursue something they love doing – a lesson I learned later in life than I'd have liked, but which is never too late to live by.
Have you ever taken part in a Half Marathon before?
Never! I'd never run more than 2 kilometers at a time until I began training for this – which is slightly worrying.
What will be the first thing you will want to do when you finish the race?
Tuck into a freezing cold pint.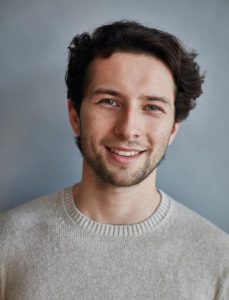 Rob celebrating after winning a round of 'Bare Peas'[/caption]What made you take part in the London Landmarks Half Marathon?
I've never been a runner, or even particularly interested in running but I really admire the commitment and resolve required to complete something like a half marathon. I'm looking to see if I can find some of my own.
The opportunity to get involved with Wac Arts and some of the great stuff they do has also been a really great incentive!
What is your training schedule?
At the moment I'm running 3 times a week but I'll be looking to increase that closer to race-day.
The event is described as "not your average half marathon! From cultural landmarks and heritage to the city's quirky and hidden secrets, runners will get to explore the capital on a route like no other!" What excites you about taking part in the London Landmarks Half Marathon?
I've heard that the atmosphere at this event is fantastic and that the encouragement runners get from the crowd is really inspiring. I'm hoping that that might take some of the pain out the legs.
I'm also a Scotsman in London so any chance to tour some of the famous landmarks I might have missed is fine by me.
What time are you hoping to complete the race in?
Hmmm, tricky one. If I'm being ambitious, let's say 2 hours.
How much are you hoping to raise?
I'd really love to be able to clear the £500 target with a significant amount to spare – if I could raise £700 I'd be really pleased.
What's your favourite running tune?
'Gimme Shelter' by The Rolling Stones – what a banger.
Last but not least, do you have a 40th Birthday message for Wac Arts?
Happy Birthday to everyone at Wac Arts!
Huge thanks to Rob for being a good sport and taking part in 'Bare Peas'! If you'd like to help Rob reach his goal of £500, head over to his JustGiving page.