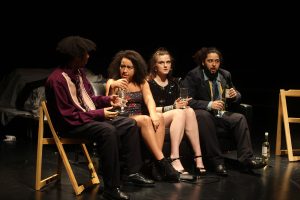 Wac Arts 3rd year Diploma student's presentation of 'Road' was a production full of passion and dark, raw emotion. Based on the book written by Jim Cartwright, this play explores the lives of people living in a run down, working class area in Lancashire set in the 1980's.
The play weaves in and out of the lives of the residents living on this street creating a series of intimate scenes and powerful monologues revealing different stories of life in the road and giving insight into the dark reality of the 80's depression. The gloomy lighting, bare stage, scaffolding and stairs descending on each side of the stage creates the scenes of despair in a run down and drab street. The staging was brilliant, the space being used to full effect. The seamless set changes and amazing set design made a gritty and powerful production. The choice of music and the lighting was used very effectively throughout adding to the edgy atmosphere.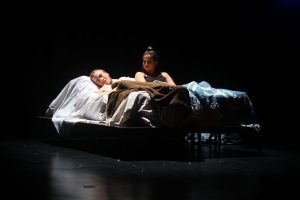 Dominic Simpson gave a stand out performance playing Joey, a depressed young boy who is starving himself to death as he's suffering from anorexia. Daniella played Clare and was compelling, bold and mature; her performance felt like it was happening in the moment, unfolding before us and took us on her journey in that desperate bed where she decides to starve herself along with Joey making a pact, fooled by love. Vivi as the old lady aged beautifully, with a twinkle in her eye and an aged shuffle in old tired bones. Tareek played more than one character and managed to keep each character varied and authentic, each one like a new breath of fresh air on stage. Daisy May was full of confidence, an edgy actress, who formed a great friendship that was believable and made us want to join their night out. Anais performed her role as a stroppy teenager with conviction and a twist. A very contemporary performance taking her out of the 80's and into the modern day. It felt very reflective of the Me Too movement. Valerie, played by Jessica-Leigh Porteous, a woman forced to sniffle out money while her alcoholic husband gets raging drunk delivered a very convincing and commanding performance.
The Diploma students were supported by Senior Wac Arts participants (the Sunday programme for 14-26 years olds). A striking performance of Scullery, a homeless thief and a drunk, played by Elijah Hammond-Dallas who takes us on this journey through the road, introducing us to an array of characters. There's Brenda, played by Amy Dickenson, a depressed alcoholic reduced to begging her own daughter for money whose performance was striking and engaging.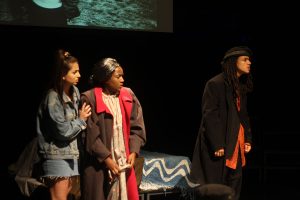 Scene by scene of deeply moving sequences, these characters lives are played out on stage, made sadder and bleak by poverty. A great, moving sequence was the ending scene, two boys invite two girls back to their place after a night out, and they're all going through a bottle of wine when one of the boys plays Otis Redding's 'Try A Little Tenderness' on the record player. One by one, they slowly start to feel the music and begin to dance. One shouts out 'Somehow a somehow I might escape' which they all begin to chant, this was a great moment. Slowly the rest of the cast join them on stage and begin to chant in unison creating a thought provoking and compelling ending which really helped the audience appreciate the desperation of people's lives during these dark times.
This review was written by Wac Arts Volunteer Carly Edwards.