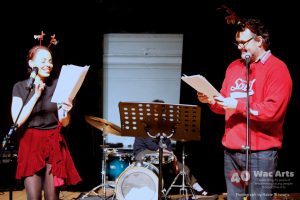 We were delighted to once again welcome Che Walker and his 'Revolutionaries' last Sunday, for a Revolution event packed full of amazing performances, with a few festive treats thrown in to get us in the mood for the holiday season.
The Revolution events started in 2012 in a pub in Dalston. Wac Arts Alum and tutor Che Walker coordinated the informal night of performances by his alliance of poets, playwrights, rappers actors and musicians many of whom were Wac Arts alum. Previous events have raised money for those affected by the Grenfell Tower, as well as events raising money for both Wac Arts and Wac Arts College.
The show kicked off with a performance of Mike McClintock's 'A Fly Went By' by Sasha Frost and Che himself, with accents as hilarious as the story itself. Che then introduced the evening as a celebration of 40 years of Wac Arts, and invited founder Celia Greenwood to share a poem to continue the night's festivities. The performer list was full of Wac Arts alumni and long time supporters of our work, making it a true tribute to forty years of empowering young people to change their world through the arts.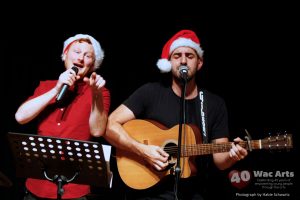 Wac Arts alum Sheila Atim wowed the audience with a performance of 'God Rest You Merry Gentlemen', followed by 'We're Walking in the Air' from the classic Christmas movie, 'The Snowman'. The Olivier winner's breathtaking voice stunned the audience, and dare we say there were very few dry eyes in the room at the end of the song. Those looking to see Sheila on stage for themselves can catch her in Che Walker's 'Time is Love/Tiempo es Amor' at the Finborough Theatre in January (Sasha Frost will also be appearing in the production).
Jack Shalloo and Antonio Magro joined together for a hilarious rendition of Justin Bieber's 'Mistletoe', throwing in some turkey cooking instructions to help us all out next week. Their fantastic comedy delivery bought the house down, and many were still talking about their performance after the show.
Fellow alum and recent Evening Standard award winner, Jamael Westman spent his evening off of 'Hamilton' to join us, first speaking about his time at Wac Arts working with and being inspired by Che, before reading Maya Angelou's 'Amazing Peace'.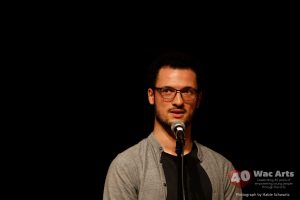 'Into this climate of fear and apprehension, Christmas enters,
Streaming lights of joy, ringing bells of hope
And singing carols of forgiveness high up in the bright air.
The world is encouraged to come away from rancor,
Come the way of friendship'
Everyone left the evening in a festive mood, having enjoyed the amazing performances from our alumni and supporters. The event raised over £1,000 for Wac Arts which will help support our programmes in 2019. Huge thank you to all the volunteers, supporters and those who donated who helped raise this great total. We also want to say a special thank you to all the performers who gave their time to perform for a good cause.
Follow them on Twitter at @Dal_Revolution for photos, video clips and news about other upcoming events.