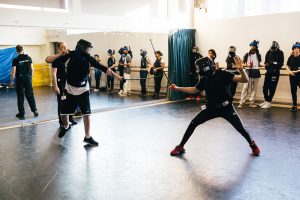 Welcome back to a new year at Wac Arts! 2019 promises to be an exciting year, with lots of amazing events coming your way to continue our 40th Birthday celebrations and more ways to get involved through the Connecting Communities project. Meanwhile, we are delighted to announce we will be introducing a new class to our Senior Wac Arts programme from this term – Fencing. If you're always wanted to sharpen your sword fighting skills, now if your chance! This class joins our existing canon of active theatre classes (Aerials and Physical Theatre), providing all round training for those aspiring to become a Physical Actor.
This new class is made possible with support from London Youth as part of their Art of Fencing programme. This programme, delivered in partnership with British Fencing, was a collaboration between sports and arts organisations (like ourselves), to inspire young people to get active and creative in their local communities. Two of our Senior Wac Arts students attended a training last December, receiving their Bronze Certificate from British Fencing. The students who attended this training will be assisting with the delivery of the programme, building on both their fencing and facilitation skills over the term.
If you are aged 14-25 and are interested in picking up fencing this year (or one of our other performing arts and media classes), head on over to www.WacArts.co.uk/Senior to find out more and apply today. Fencing classes start on Sunday 13th January from 10.30am to 11.30am. (Please note you must be registered as a Senior Wac Arts student to attend these classes).