Leon trained at the London Studio Centre studying Performing Arts. As a professional dancer, singer and actor, Leon's theatre credits include: Showboat, A Night at the Cotton Club, Hollywood and Broadway – UK National Tour with Wayne Sleep and Bonnie Langford, Bullies Ballerinas UK tour, Aladdin, River Dance – specialist Tap Dancer.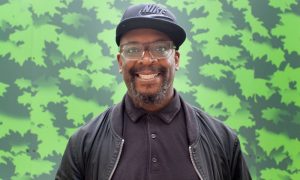 Leon's numerous appearances on TV some credits include BBC TV, The Late Late Show and the Brit Awards. He has also appeared in various pop videos by artists such as Boy George, Shakatak, Nick Lowe and Gabrielle.
Leon is also an accomplished Dance Teacher and Choreographer, whose work includes numerous Dance-in Education projects throughout the UK. As a freelance Dance Tutor Leon has taught and collaborated on Jazz Dance pieces in the UK, South Africa as well as the Netherlands. Leon has choreographed for The London Studio Centre summer show and Kinetika Bloco.
Here is Leon on stage performing an American Tap routine in the world famous River Dance show in 1995:
---
HB: How did you become involved with Wac Arts?
I first got involved over 13 years ago, taking part in a Wonder Wac Arts Half term project as a tutor. It was one of the best projects I have worked on as all of the Young People and staff had fun all week! My current role is the Junior Wac Arts Coordinator (Saturday program for 5 – 14 year olds.) and I also take dance class when my expertise is needed. I started working as the Pre 16 coordinator and Dance Tutor for Wac Arts College when they opened in 2014. I am in the building most of the week and love working across the two organisations. It really is a chance to get to know everyone.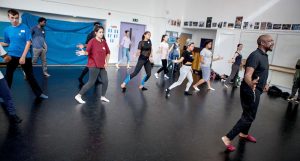 HB: What do you like best about the building, Wac Arts Home the Old Town Hall?
The building is amazing, I love the fact that it has a lot of historical content (war memorial plaques, paintings of historical figures etc) and the arts block is so modern (a great mixture of both!). It's a really nice place for a young person coming along to engage in an activity, as they feel good that they are part of this grand building (a parent turned to me one day and said 'we love it here'). It is special!
HB: Please share with me a favourite memory from your time at Wac Arts..
Taking part in an Easter project a few years back, it was a joint project with Junior Wac Arts and the interactive programs for our young people with disabilities. It was so nice to see how they all had fun, created great work together – it was fully inclusive which is absolutely our ethos. The feedback forms were all very positive…
HB: Why does Wac Arts matter to you, the young people who attend and to today's society?
I have been lucky to work with Junior Wac Arts as a coordinator as well a tutor on holiday projects, residential trips, the full time Diploma course and on outreach activity (workshops in schools, spreading the word of what we do to youth groups etc). The young people that come through our doors come to experience arts activities, develops new skills, make friends, have fun, and enjoy the environment/ setting of the building. I have noticed throughout my years at Wac Arts that we give a lot of support to young people such as helping our participants develop their leadership skills and I would say that every program has a young person that has developed skills as a volunteer/ support assistant / tutors and coordinators. Building up their skills and confidence to have happy futures!
What is so special about Wac Arts is the way we champion an organic way of engaging – the process and partaking being more important that the product, which is special. A lot of parents ask me why we don't do more shows, why don't we do exams (other than our full time course). I have to explain that we are not a stage school, we want give our young people great experiences but not to be pushy. We want to allow them to blossom in their own time but also giving them the tools to be brilliant at the same time!

Thank you Leon!
As part of the 40th Birthday Celebration Year the Marcomms team will be catching up with members of the Wac Arts community to find out why Wac Arts matters to them. Keep an eye on the website and on Wac Arts socials for more interviews, news and opportunities.