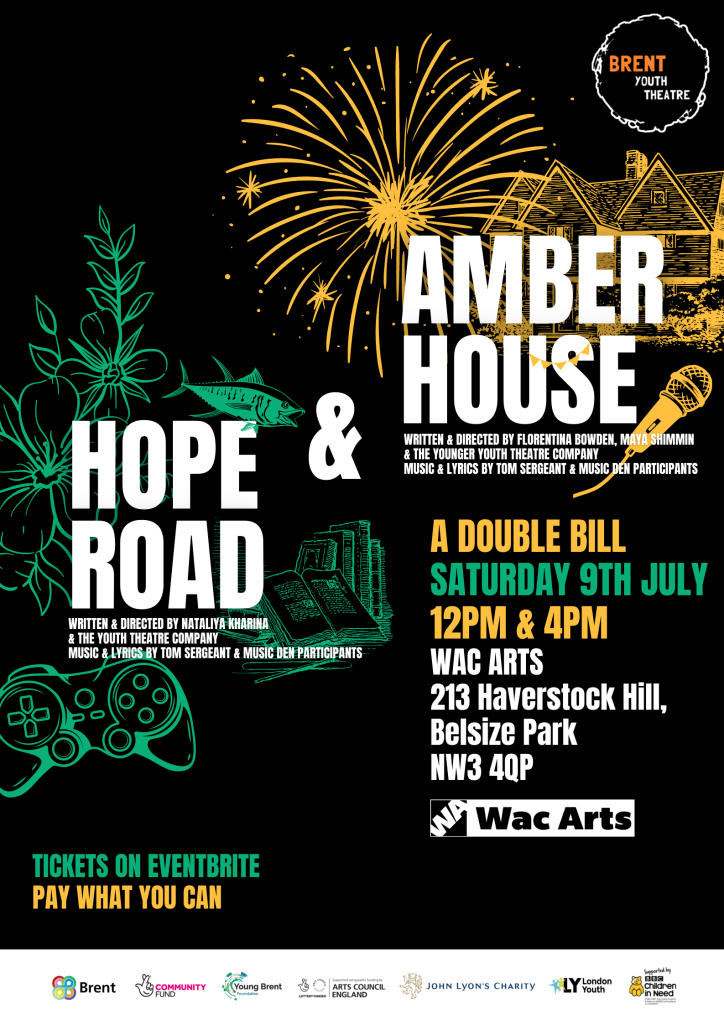 Brent Youth Theatre bring you two shows based on this year's theme: Stories of Survival in Times of Turmoil
About this event
Feast your eyes & ears on two magical, inspiring and uplifting performances created by the children & young people of Brent – with original songs written by our very own Music Den & set design by Backstage Crew.
AMBER HOUSE
Every year, as the heat of summer sets in, the community comes together at the Amber House Festival – filled with the brightest and most inspiring artists and speakers from all over the city. Three siblings, Kayla, Jay and Lars have never missed it, but this year they are feeling bored of each other and listening to their mum. Desperate to explore parts of the festival they have never seen before, they set off on their quest for independence, traversing the stalls and stages. They stumble upon figureheads of the community who recount stories of their past, trying to impart some wisdom on the young minds. But as they go deeper into the darkest depths of the festivities they learn that independence may not be as easy as they originally thought and a little self-discovery may be needed… will they change their ways?
Join our Younger Youth Theatre for a contemporary adaptation of fables and folktales from our communities, complete with hilarious characters, songs and dance routines along the way!
HOPE ROAD
Hope Road? More like Hope-LESS Road. Broken, neglected and covered in potholes. But for the fishmongers, florists, gamers & librarians, it's home. Every morning the same routine: fish is delivered, causing a smell that enrages the florists; the librarians try to quieten the noise as the inevitable arguments ensue; people are reading books after all, only for the brief silence to be broken again with excited screeches – gamers just broke through level four hundred and three! This is life until one day 'the officials' bring news – the road is being bulldozed! Who will be the first to go? Through a media storm, the residents have to make a decision- to blame each other or work together. The messaging from the officials is strong and as the shops begin to argue about who is the most important, the road is lost for everyone. Having lost their homes they journey to New Avenue where life feels grey, hopeless and there are always problems with 'the economy'. There are officials here too and all they care about is being elected and what better way to do so than to blame all their problems on the Hope Road disaster? Another media storm, this time against the newcomers.
Will history repeat itself, will anyone ever learn?
Brent Youth Theatre participants have spent weeks interviewing Brent residents about their stories of survival in times of turmoil – Hope Road is the result of what we have learnt. Filled with comic characters, songs you'll be singing for weeks and movement sequences you don't want to miss!
Running time // 2 hours 15 minutes (incl. two shoes & interval)