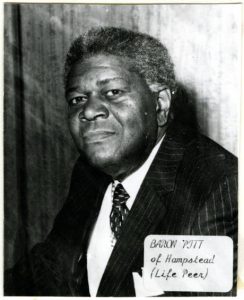 David Thomas Pitt (1913-1994), later Baron Pitt of Hampstead, was Britain's longest serving Black Parliamentarian. A doctor by trade, he spent his adult life campaigning for equality. He was active in the anti-apartheid movement, the founder of Britain's first civil rights organisation 'Campaign Against Racial Discrimination' and was instrumental in campaigning for the Race Relations Acts of the Labour government.
His first public campaign meeting took place on the steps of Hampstead Old Town Hall. The meeting was widely reported in the press because he was continually interrupted by a crowd of the racist White Defence League. He 'struggled to make himself heard over the shouts of "Keep Britain White"' and the situation escalated into chaos as fights broke out and property was damaged around him. Nevertheless, Pitt continued his speech and "remained calm and smiling throughout the mêlée"
In the 1959 general election, David Pitt was selected as the Labour candidate in Hampstead. During this period, Pitt and his family received threatening anonymous phone calls and death threats from racists. Despite this, he refused to give up.
In 1975, Pitt became a member of the House of Lords on Prime Minister's Harold Wilson's recommendation. This position allowed him to forge his legacy as a key figure in the creation of the Race Relations Act (1976). The Act prevented individuals from being discriminated against in relation to their race, ethnicity and nationality.
By fighting for change and never giving up Pitt encouraged young black people of Britain to do the same. He was a man who understood the needs of ordinary citizens and saw that society required a much more radical change in our approach to fighting for equality. He fought not just racial equality but equality for all citizens irrespective of their background.
The struggle for equality is a continuing factor in the current political landscape and history shows the pivotal role that Hampstead Town Hall provides as a platform for change.