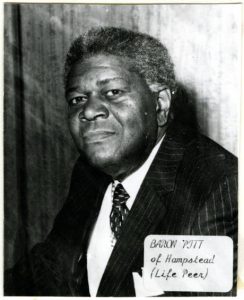 David Thomas Pitt (1913-1994), Baron Pitt of Hampstead, was Britain's longest serving Black Parliamentarian. A doctor by trade, he spent his adult life campaigning for equality. He was active in the anti-apartheid movement and was instrumental in agitating for the Race Relations Acts of the Labour government.
Born in Grenada in the West Indies, David Pitt was selected the Labour candidate in Hampstead for the 1959 general election, amidst a campaign rife with racism, hurting him and his fellow supporters deeply. Pitt and his family received death threats from racists but he refused to withdraw from the race.
His first public campaign meeting took place on the steps of Hampstead Old Town Hall was widely reported in the press because he was continually interrupted by a crowd of the racist White Defence League; nevertheless Lord Pitt continued his speech and fought a difficult election in the borough, losing to the Conservative candidate. P
He went on to found Britain's first civil rights organisation, the Campaign Against racial Discrimination.
By fighting for change and never giving up he had encouraged young black people of Britain to do the same.
During one of his campaigns in London he called for young black people to join the police force at a time when it was widely acknowledged the forces suffered from institutional racism, but Pitt felt that challenging these racist attitudes must be fought from within the force.
Even though he divided opinion even amongst his own supporters, which he was aware of, David Pitt was a man who understood the needs of ordinary citizens, and saw that society required a much more radical change in our approach to equality. He fought for not just racial equality, but equality for all citizens irrespective of their background.
Pitt's legacy is unique: the Race Relations Acts he spent much of his political career fighting later became amended to the Race Relations Amendment Act 2000 and then more recently repealed by the Equality Act 2010 – mirroring the same progressive goals as the European Union's Equal Treatment Directives.
The struggle for equality is a continuing factor in the current political landscape and history shows the pivotal role that Hampstead Town Hall provided as a platform for change, moving us along the path of overcoming some of the most harmful divisions in society we still experience today.
Source: www.parliament.uk