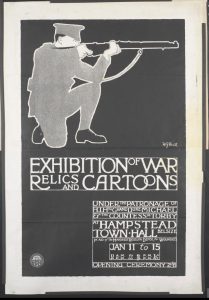 Raising money has been high on the agenda for Hampstead Town Hall over the years. In 1881, almost as far back to when the building first became used as a public hall, the Metropolitan Police Minstrels ran a performance to raise money for the Police Orphanage. Still active today, the Metropolitan Police Orphanage was established in January 1870 and supports the children of serving and former officers of the Metropolitan Police and the City of London Police who couldn't contribute to the wellbeing of their children due to being incapacitated.
The venue hosted events to help children and infants in need. Way back in 1907, the Irish reel "Coming of Spring" was performed by students from Fleet Road Boarding School to raise money for the Underfed Children's Fund.
In 1912 a famous fund raiser was held for victims of the Titanic.
Many more charity events followed this, including one for soldiers returning home from the war. A lot of these focused on sales in order to raise money: between 1914 and 1918 the sale of cartoons and war memorabilia helped raise funds for a local injury unit, and in 1915 there was a fund raiser for Belgian soldiers fighting in World War I.
1953 – Nigerian Womens' League founded, launched New Years Day with a dance at the Town Hall "We believe that the women of Nigeria are capable of following in the courageous footsteps of the many brave men of other lands who have in the past fought against prejudice and overcome overwhelming obstacles in achieving great victories in the field of human endeavour….ours is the cause of Nigerian womanhood." (Marc Matera, Black London p118).
In 1964 Andrew Loog Oldham (Rolling Stones Manager) produces the One Night Only Rhythm and Blues Extravaganza. He discovered that he could rent the Hampstead Town Hall free for the evening if fundraising for a non-profit entity, and formed the "Hampstead Literary Society" to qualify. Rolling Stoned, By Andrew Loog Oldham: "We discovered that we could rent our local Hampstead Town Hall free for the evening if we were fund raising for a non-profit entity. Accordingly, we formed the "Hampstead Literary Society" to qualify, and booked the Town Hall. The first act were "Direct from their successful German Tour," because the bass player had just spent his holidays in Bavaria. We managed to end the evening with no RnB at all… The food sold failed to quell the universal demands for refunds, as I skipped out the back door, fifty seven quid in hand."
1985 Friday 11 Jan, 7.30pm, The Pogues play to fundraise for the National Union of Mineworkers.
The Old Town Hall continues its charitable aims to this day, housing a number of local charities and, through its major tenant Wac Arts, providing a low cost performing arts education to young people across all London boroughs.
Sources:
http://www.met-cityorphans.org.uk/about
Rolling Stoned, Andrew Loog Oldman Biography
Marc Matera, Black London p 118