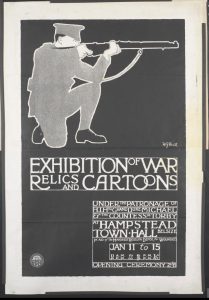 Raising money has been high on the agenda for Hampstead Town Hall over the years. In 1881, almost as far back to when the building first became used as a public hall, the Metropolitan Police Minstrels ran a performance to raise money for the Police Orphanage.
Still active today, the Metropolitan Police Orphanage was established in January 1870 and supports the children of serving and former officers of the Metropolitan Police and the City of London Police who couldn't contribute to the wellbeing of their children due to being incapacitated.
The venue hosted events to help children and infants in need. Way back in 1907, the Irish reel "Coming of Spring" was performed by students from Fleet Road Boarding School to raise money for the Underfed Children's Fund.
In 1912 a famous fund raiser was held for victims of the Titanic.
Many more charity events followed this, including one for soldiers returning home from the war. A lot of these focused on sales in order to raise money: between 1914 and 1918 the sale of cartoons and war memorabilia helped raise funds for a local injury unit, and in 1915 there was a fund raiser for Belgian soldiers fighting in World War 1.
The Old Town Hall continues its charitable aims to this day, housing a number of local charities and, through its major tenant Wac Arts, providing a low cost performing arts education to young people across all London boroughs.