Our Summer programmes come to an end today, having bought performing arts and media training to more than 100 young people over three weeks. Keep reading to find out more about what our students got up to.
Week One
Our Summer programme kicked off with this fantastic Summer School from our Disability and Inclusion team. Students were tasked with creating their own 'sensory rave', to be enjoyed by staff, other students and guests from other organisations at the end of the week. The group created signs and artwork for the walls utilising fluorescent paint and made 3D sculptures out of straws to hang from the ceiling. A second room was decked out as a chill-out room, which included soft, multi-coloured lighting and textured tiles made by the students. Around the room were scent bags, containing glow sticks to add some illumination and gloopy glitter to make them fun to feel! Projected onto the walls were videos made by the group earlier in the week, like a kaleidoscope at a rave they created a visual spectacle that accompanied the tunes and the dancing perfectly!
The sharing at the end of the week was an activity filled event, with opportunities to have our faces painted in neon, buy a mocktail (concocted by the group) and enjoy some live dj'ing and mc'ing there were even podium and break dancers! It was great to see guests at the sharing, including Jonathan Butterell, dancing to the music that had been created, watching the videos they had made and celebrating the hard work and creativity of the group.
Week Two
Week Two saw 40 young people come together for 'Wac Arts Sings', a new summer school focused on songwriting and singing. Over five days, they wrote original songs based on the writings of Sigmund Freud, in the style of TS Eliot, with additional inspiration from the Suffragettes and poetry of War, all of which have a link to Wac Arts and our Old Town Hall. The students also created old posters that decorated the walls, taking us back in time. Their sharing, entitled 'Hear My Story', was a celebration of Wac Arts and our rich heritage. We especially enjoyed the song about global warming and the environment, where all the young people performed actions of the waves and fish as they sang. The songs were fantastic, and we hope students now put their songwriting skills to good use!
Meanwhile elsewhere in the building a group of young people joined Ingrid Mackinnon (Head of Dance) and Leon Hazelwood (Junior Wac Arts Coordinators), who are both professional dancers, for a week of dance classes taught by top professionals. We welcomed Diploma tutor David Blake, also known as Banzai in 'The Lion King', who shared his knowledge of Horton Jazz with the group. Senior Wac Arts Afro-Fusion tutor Patience James ran a class that, as always, excited and amazed the students with her high energy moves. We were also delighted to be joined by one of the most respected African Arts Practitioners, Angie Amra Anderson, who shared her own insights with the group.
The last summer school in week two was our Music Production course, run in collaboration with Camden Summer University. Students learned new skills that helped them create music with technology in a variety of ways. We can't wait to hear the music they create in the future. Our Summer School funders attended the sharings and were really impressed with the young musicians – some of whom had never created beats before and have now produced full songs in just 5 days!
Week Three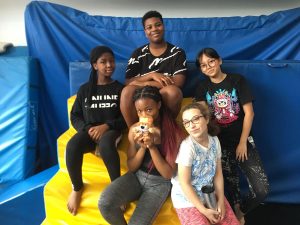 The third week of summer schools saw the return of our always popular and sold out Circus School, with forty young people coming together to learn some aerial skills, juggling and how to tumble. Other classes included making their own music and films, which were shared with family and friends at the end of the week. We were amazed by how much they had learned in just five days, going from never having tried circus skills to being able to juggle, climbing the aerial silks with ease and making some fantastic films with green screens.
In the evenings, we ran an Aerials course, again in collaboration with Camden Summer University and our partners at Upswing. This was an opportunity for young people to try out this amazing performance style for the first time, building their abilities through the week. We loved seeing them grow day by day, really taking off and flying by the end of the week!
If you would like to be the first to hear about our future summer schools, be sure to sign up for our mailing list by heading over to www.WacArts.co.uk/Newsletters