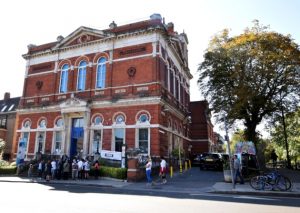 For the very first time, Wac Arts opened its doors to the public as a site for Open House London on the 21st and 22nd of September. Curious Londoners were able to experience Hampstead Town Hall and its history by stopping by or taking part in one of our tours. These tours are fuelled with the history of Town Hall which was made possible by our heritage project with the National Heritage Lottery Fund. Wac Arts has been working with the community to provide performing arts and media programmes for now over 40 years, and what a better way to celebrate that, then to look back and think of how not only Wac Arts came into being, but how our beloved home of Town Hall did as well. Our Connecting Communities heritage project gave insight on how many of our predecessors worked to bring change to better their community on these same grounds. This includes individuals like Emmeline Pankhurst giving a powerful speech as part of the suffragette movement in 1913, and later, in 1971, members of the LGBT+ community gathering for a Gay Liberation Front disco in our very building.
Visitors learned about the Town Hall from Wac Arts' Director of Programmes Lindsey Pugh and Events Co-ordinator Ryan Schultz. Adding a theatrical twist, our tour guides took on the characters of Wolly Sykes, a town hall archivist, and Mr. Dappery, chairmen of the Friends of Old Hampstead Town Hall respectively. Roger Baird, one of our guests on the tour informed us that Wolly and Mr. Dappery were 'Very eccentric but very entertaining. They made a visit to 19th century vestry more fun than I had any right to expect'. In fact, our town hall hosted 615 visitors over the course of the weekend!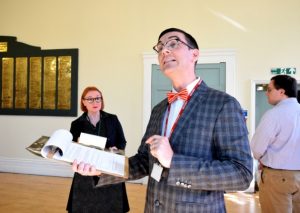 The tour allowed visitors to visually observe how Town Hall has developed over time through the various architectural styles. Wolly and Mr. Dappery began the tour discussing our Victorian architecture from 1878, and prompting guests to venture further inwards. Walking on original Victorian floor tiles, guests were able to see the ornate details and scale of the 'Imperialist Staircase'. Following our Victorian attraction, guests learned that the Edwardian extension was made to support the building's increasing function when it became Town Hall. This same section still functions as offices for our various organisations, including Wac Arts who have been custodians of the building since 2000. As the tour continued, guests learned about various weddings and musical events that took place in our building, and other exciting tidbits of knowledge. This included Reina Lawrence becoming Hampstead's first woman councillor in 1907, or Queen Elizabeth visiting our Imperialist Staircase for all of 7 minutes (even if she was 45 minutes late).
Mr. Dappery explained to guests that in 1990, Town Hall was at risk of being demolished and replaced. Yet, thanks to the Friends of Old Hampstead Town Hall, it was able to be saved and leased to Wac Arts on peppercorn rent of £1 a year. To help house Wac Arts programmes, a modern addition known as our atrium was built. This gives Town Hall a grand total of three different architectural time periods, which many of our visitors deemed their favourite part of the tour. The atrium was built on top of another favourite from our guests, the Air Raid Shelters. Many visitors were surprised to learn that the Town Hall had served as an Air Raid Protection station and received three direct hits during the Second World War. The graffiti inside the bunker served a lot of visitors as a direct window into the past, many imagining what it would have been like to be inside during a raid.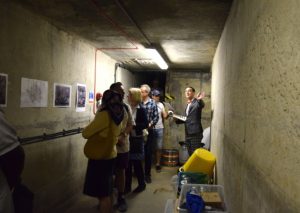 Our visitors were very pleased with Wac Arts opening its doors and sharing the rich history with them through Open House London. Not only were we excited to share the heritage, but also were excited to share what we do at Wac Arts and our offer of arts programmes for young people. One of our guests even remarked, 'I didn't know anything about Wac Arts before today. I was impressed by what it is'. We hope to partake in Open House again in the future as being able to share our findings from our heritage project was an exceptionally exciting and rewarding experience for our visitors during Open House and us here at Wac Arts.
Two reporters from the local paper the Ham and High attended the tours and were impressed with the event, stating that it was fun and informative. The full article is on Ham and High.
Find out more about Open House.
Open House review was written by Wac Arts intern Andrea Lara.