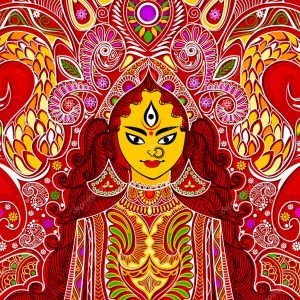 From 15th to 19th October Durga Puja will be holding their annual festival at Wac Arts.
Durga Puja, also called Durgotsava, is an annual Hindu multi-day festival that features elaborate temple and stage decorations (pandals), scripture recitation, performance arts, revelry, and processions.
Durga Puja festival marks the battle of goddess Durga with the shape-shifting, deceptive and powerful buffalo demon Mahishasura, and her emerging victorious. Thus, the festival epitomises the victory of good over evil, but it also is in part a harvest festival that marks the goddess as the motherly power behind all of life and creation.
We caught up with Chandana Sanyal who is helping coordinate the event at Wac Arts and Chandana has kindly answered a few quick fire questions about Durga Puja on behalf for London Durga Puja Dusserah Association.
Q: What are you most excited for on the cultural schedule?
All of it is exciting; there will be beautiful dance recitals in front of the Goddess; children's performances which is very special as this gives us an opportunity to showcase young talents and engage them in the celebrations and of course the special acts on Friday 19th which includes local talents as well as international performers.
Q: Why did you choose Wac Arts to hold the festival?
The history of this Puja is interlaced with the Hampstead Town Hall; this puja celebration was started at this venue in the 70s by our elders and we returned here in 2008 and some of the original members who are still here are now guiding and enthusing the young second generation to take the tradition forward. Being able to hold this celebration at this venue means a lot to us!
Q: Three words to sum up Durga Puja and the festival…
1) collective and community spirit
2) celebration of cultural, values and heritage
3) continuation of traditional rites and rituals
Q: How can staff, our Board and students come along?
We would like to extend an open invitation to Wac Art staff, Board and students to join our Durga Puja celebrations next week. We have the rituals and prayers in the morning and evening and cultural performances each day in the evening with a finale programme on the 19th evening (click link here to download the full schedule and the cultural programme)
If you want to attend the cultural programme on Friday 19th, please email chandanasanyal@gmail.com and she will reserve some places for you.
Q: Are the public able to come to the cultural performances? If so do they need to book?
The cultural programmes on 15th to 16th are free for those coming to attend the celebrations; the programme on Friday 19th is a ticketed event go to the website for more information www.hampsteadpujacommittee.co.uk