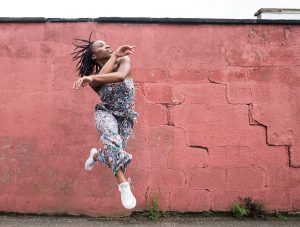 U3A member Barbara Prynn spends some time with Dance professional Ingrid Mackinnon to explore the themes of Heritage.
Ingrid Mackinnon's movement direction credits include #WeAreArrested (Royal Shakespeare Company), Fantastic Mr Fox (associate movement – Nuffield/Lyric), Kingdom Come (Royal Shakespeare Company) and #DR@CULA! (Royal Central School of Speech and Drama). She is also assistant choreographer and rehearsal director for Uchenna Dance. She is currently Head of Dance at Wac Arts for the Professional Diploma in Musical Theatre.

BARBARA PRYNN: Today is the 26th of June and you are…
INGRID MACKINNON: My name is Ingrid Mackinnon and I am currently Head of Dance for the full-time Diploma in Professional Musical Theatre.
B: Can you tell me how your connection to Wac Arts began?
I: It began probably – I was trying to sort this out the other day – I think in about 2015, about 4 years ago, as a Freelance Tutor.
B: And you were doing different things before?
I: I was working as a performer and tutor across London and the UK. I came here to teach Jazz dance to the Diploma students.
B: I am very ignorant about the courses here, the Diploma students… who are they, what do they do?
I: The Diploma is a three-year, full-time training with the idea that the students will go on to pursue more training or start a career in acting, musical theatre, music… it's a well-rounded training in singing, drama, and dance.
B: And they spend three years here?
I: Yes, three years here.
B: And these are post-school leaving?
I: Yes, so the youngest student we have had is 17 and the oldest we currently have is 24 so they range in age and they also range in experience. Some have no experience in the performing arts, but they have a real passion, so they come for the alternative diverse training and others have some previous training, but they also come to get a little bit more diverse different experience.
B: And the diploma is accredited by…?
I: Trinity and the University of Middlesex. But Trinity is our accreditation body. So they receive a Level Six Diploma.
B: So you came here to teach jazz dance?
I: I did, yes.
B: And what did that involve as far as you were concerned?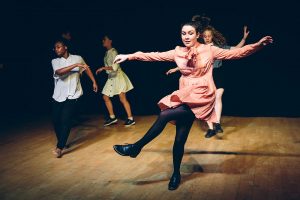 I: Well it involved coming here, I was here for about 3 hours a week and what I did was I taught them about an hour and a half of jazz dance technique and then we would spend another hour and a half talking about the roots of jazz dance and my focus was more on kind of the history of jazz dance as it relates to American jazz dance, where it came from, from African American influence into Broadway-style jazz, into what we know now in contemporary and so on.
B: And so you taught the same students for these sessions for the three years?
I: I taught them for, actually I was only here for one term, so I was only here for 10 weeks and the same group of students for the 10 weeks and then I went away and then I came back again I think in 2016 to teach ballet. I have a lot of different dance skills under my belt so it was a different set of students, but it was the same Diploma course and I was here for then two terms, so a total of 20 weeks. I put those students through an assessment as well. That was fun and then I was invited to come in to talk about becoming the Head of Dance. The Head of Dance had been here for many years and had just left and the position became open and I guess they were scouting and thinking about who might be a good fit. So here I am.
B: So you have been doing this for two to three years?
I: Yeah, two years.
B: So it was a big jump from spending three hours a week with some students to doing what you're doing now I assume.
I: Yeah, yeah – well I guess on paper it seems like a big jump but in reality for me as a professional, it was not, it was the perfect leap. I've actually, two years ago, when I started becoming Head of Dance, I had just completed an MA at Royal Central School of Speech and Drama in Movement Directing and Teaching. I was transitioning from being a full-time performer to more of a full-time creative in the room. So it was the perfect transition for me. So I guess through the balance of my whole career in the performing arts, which spans many decades, it wasn't that much of a leap, it was a leap in terms of administrative skills, but I think if I could handle completing an MA and all the criteria that it requires, I could handle the spreadsheet and the administration if it is explained to me. I was able to learn and I am still learning.
B: So doing this brought together some performing I suppose for you and also creating things with the students, can you tell me about that?
I: So since I've been here, I've continued to teach them technique so I continue to teach them jazz and ballet. Then last year I was involved in their end of year performance as the choreographer, we did the 'Threepenny Opera' and I did the choreography and movement for that, which was great because I know them as students and then to get to work with them in a pre-professional slash professional contact. It was quite nice and they also got to see a different side of me. One side was as a tutor; one side was more professional, creative hat on. And then this term currently we are in production, working on, rehearsal for 'In the Heights', which is another musical. And I am the choreographer for that so working with students to create original movement from production that has been done on Broadway, here in the West End and also in various amateur productions, to create something original that reflects them and reflects their strengths in the space that we have as well. I get to work with them creatively and also through teaching them the discipline and rigour of dance in weekly classes as well. It's a real joy.
B: So in working with them in producing a show, you benefit – you're saying you know them well, therefore, you know their strengths and weaknesses and how to combine them and so on.
I: Yeah, it's really useful because our students are quite diverse and come from a variety of training backgrounds so by that I mean to quantify that, myself, I started dancing at the age of three.
B: What sort of dancing?
I: The first dance class my mom put me in was tap and then ballet followed very soon after and then things like jazz, and by the time I was eight, I was doing regularly jazz, tap, ballet, and acrobatics. So I trained at a local dance studio which started at one day a week and by the time I was 16/17, I was there four to five days a week. So by the time I was the age of a lot of the students I am teaching here, I was already working professionally. So some of them, their contact with dance has been as recent as this year with me or just last year. So what they lack in technique, they make up for in passion and performance energy. So because I know that about them, we can choreograph and create movement that highlights their skill and by no means are we trying to hide anything, but we are also, I mean every performer just wants to look their best on stage. So that's what we do in the room. So it's a constant negotiation between what looks good, who looks good doing it, are we going to be able to repeat this multiple times, is this move that I've given you a one-off or can we repeat it multiple times in front of an audience while you also sing a song? So it's a nice creative task for me and them.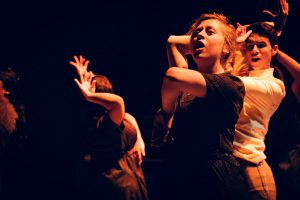 B: You've said her, are they all girls?
I: No actually there are 14 students and I have five wonderful gentlemen as well. So there are nine women and five guys.
B: So you talked about jazz dance and ballet, do you do modern dance as well?
I: Yeah we do, one of the main modern techniques that they study in the Diploma is the Horton technique.
B: Tell me about that, I have no idea what that is.
I: So Horton modern technique was created by Lester Horton in the early 1960s in California and his most famous student was Alvin Ailey who went on to start the Alvin Ailey American Dance Theatre. The Alvin Ailey American Dance School trains their dancers in the Horton and Graham technique. Those two modern dance techniques.
B: That I do know about.
I: Yeah so Horton is very popular and widely used in a lot of schools and institutions in the United States, but less so here in the UK. But it's a wonderful technique that compliments jazz dance very well. It keeps you quite grounded, the lines are quite linear, so it gives dancers a sense of strength and verticality through the spine which compliments the work that they do in jazz which also has a sense of looseness through the spine from it's African influence. So the two together work well. And also I find that out of most of the modern techniques, by that I mean Cunningham, Graham, Limon, and Horton, Horton seems to be the most accessible for those who may not have started their dance training as early as what you would expect a dancer to have started. So yeah, our students study Horton twice a week and I think they are quite strong.
B: So how has your study recently contributed to your teaching?
I: Ah right, so the MA I did was primarily to work with actors as a Movement Director on productions, in theatre and opera and film. I've been teaching dance for a very long time, I started assistant teaching in the room probably from the age of 13 and I probably started teaching little ones – you know three-year-olds. It's not even like teaching three years olds you know just keeping them corralled for 45 minutes and then sending them up to their parents – from the age of about 16. So you know I've been teaching quite a long time, but it's always been dancers and then I started to develop an interest in doing something new and this came around the time I was transitioning as I mentioned earlier. I was teaching body conditioning, so I was teaching Pilates and fitness to MA Music Theatre students at the Royal Central School of Speech and Drama. And I was like 'Whoa, this is a great school, what else do they have here?' And I just read they had this great course for movement. So the whole idea was to bring this whole practice, whether you practice dance, yoga, whatever your practice is, and how could you translate it and articulate it to a language that can make sense to the actors and help them in their storytelling. It was brilliant, it was right up my street. So I did that but within that course, there was also a lot of picking your own practice of teaching and how you teach, how you scaffold your teaching, what the essence is of what you want to teach, but what is your endgame and dance training because it is so about shape and form, sometimes as dancers and as dance teachers, the essence of an exercise is missed because we have to offer so much information on just how to get the body aligned on a certain form. So what this MA did for me was help me understand what the essence was of what I was teaching, like to focus in on that and then whatever came as a result, came as a result, which I think has been really helpful because I think to focus less on the fact that my students here who have had a lot less dance training than some students that I have taught in other schools may not have the perfect line, but they have the essence, they have the quality of ballet in their bodies and they can understand it and they can use that as performers which makes me feel like I've done like tick, job done.
B: So your job here is not a full-time job?
I: No part-time, two days a week.
B: And it's been two days a week throughout since you've got this particular job?
I: Yeah.
B: So I understand you are about to leave…
I: Yeah, I am and we have two more weeks left, yeah two and a half actually.
B: Okay, tell me what you have gained since being here.
I: I gained a lot, the administrative stuff I told you about earlier, I think until you are given an opportunity to flex that muscle, you don't know if you have it. I was definitely given an opportunity to flex that administrative muscle and I know now that I can. It scares me a lot less. I know that I can sit at a table and offer ideas to people who are not necessarily dancers or performers or creatives and I have learned that I have quite an articulate voice, which when you spend many years as a dancer, you don't get to speak, when you go to work, you don't speak, there's one person who tells you what to do and you nod and do it with your body and you go home. You don't really speak so I had forgotten that I had this voice or maybe I didn't know since it had been years since I've used it so I learned so much from that. My ability to lead and structure a curriculum, to watch the growth of my students. So I've grown as a leader, creative, producer, my ability to produce something, which I didn't even know I had those skills, I never would have thought of myself as having those skills. So yeah it has been awesome.
B: So, one of the things that you've learnt has been to do with, you've talked quite a lot about people in the class having different levels of experience and years of working in the field of dance. Have you also learned about teaching people who are different ages, because in the Masters you were talking about teaching people who are presumably older maybe even than the students you have now, but also perhaps have less experience?
I: Yeah, certainly I think I've had – the opportunities I've had through working as Movement Director, I've had more access to older bodies, which has been wonderful, I've learned a lot, they taught me a lot, which is great. I think it comes back to that thing about the essence that I was talking about that I now carry with me. It was something that I learned from one of the tutors at Royal Central School of Speech and Drama, Vanessa Ewan, who would always talk about what is the essence of what you're teaching and if you know what that is, then you can teach it to anybody, whatever their ability or age or physical limitations or non-imitations is. I would like to have more access to different types of bodies. I think nowadays I get as much pleasure if I go back to my roots of dance, I get as much pleasure teaching dance to like, for instance, to 'The Lion King' dancers as I do a room of beginners of a variety of ages with a variety of different needs, some have had hips done, some have an artificial knee, some have just had a baby. All these kinds of things I get as much pleasure from the challenges in both. Because I'm like 'Woah, okay, so how can I get both of you guys to shine?'
B: So you have a wider experience now is that what you are saying?
I: Yeah.
B: About your students, I don't know what sort of follow up there is, but do you know once you finish teaching them, they've got their Diploma, what happens to them next?
I: Well, I hope they all go off to shine and invite me to their show, that's what I hope. But a few of them have already acquired agents, which in today's day and age seems to be more of a requirement so that's really great news. We are pleased for them because that will help, an agent doesn't do everything for you but that will help. I think a few of them will probably stay in touch and probably take a class if I teach somewhere; a few of them already do that when I teach elsewhere, which is great. They do that with some of their other tutors, who also teach in other places. They go and take a class and I hope they continue to keep their training. I think, if anything, that I am hopeful that I have left with them that the three years is not it, it's like a life long journey. It's not like you've done three years and then you are given your piece of paper and you're a professional. You still need to go to class, you still need to train each day, you still need to have discipline and rigour each day, even the people who are at the top top top of their game, acting, singing, dancing, constantly, daily, put in work. I hope that my students just remember that.
B: So the different places that you and your colleagues work, are they connected in any way or is it just a question of finding out for yourselves if there are vacancies for work or the interest that you have that you can follow up?
I: Gosh no, London is a strange place like that, it's not very connected, but once you're kind of in the door, your ear becomes quite big and you hear about lots of stuff. I think if you are good at something, people will recommend you for things and you'll get called about stuff, which is how I found out about Wac Arts. A friend of mine brought me in to meet and so I came in and there I was teaching jazz, like that. A lot of the industry works like that. Who you know, what you know, being available, right place, right time, sort of thing.
B: Presumably sometimes you might get offered or hear about something that you are not interested in?
I: Oh definitely. Certainly yeah. Do some real soul searching. Pros and cons. I mean, I'm at a certain place in my life where because of my family, my husband, I have a young child, you know, I don't say yes to anything, I have to weigh all the pros and cons. It's not just about driving my career forward. I'm like 'Is this worth the time away from my child? Is this worth the time to negotiate childcare with my husband?' I have to really weigh those pros and cons so yeah, definitely there are things that come up my way that I'm like 'Mmm no'.
B: So presumably also you learn about places or people where it's not a good idea to work with?
I: Yeah, yes, it's a strange industry in that you know your reputation can precede you. You know, definitely institutions, as well as people, suffer from that. I think most of us know what places to stay away from I think. There's a real term that is used now "it's a vibe" you just know the vibe, if the vibe is wrong, you can feel it in your bones and just politely walk away. There is also a real respect in the industry that people don't talk so much about those bad vibes. Your actions should speak for themselves.
B: Is it difficult to keep together your professional and home life? Logistically is it difficult to organize this if you spend only two days a week here, you must be spending the other three days somewhere else?
I: Oh yeah, I spend the other three days freelancing on other projects as a Movement Director, Rehearsal Director, and Choreographer.
B: And some of these are shorter-term than others?
I: Yeah. So, I have a long-lasting relationship with the dance company I've been working with as Rehearsal Director and Assistant Choreographer for the last six years. I also do projects and movement direct productions for the Royal Shakespeare Company and I also do a lot of little pockets of teaching other places. So yeah, there's a lot of juggling and yes it's very complicated organizing those pockets.
I will say that certainly, my son is three and a half now and up until my son came along, I probably said 'yes' to almost everything and he thankfully gave me boundaries and it made it easy to create pockets of boundaries around when I need time for him and family life and then also work. Now the next boundary I need to start creating is a boundary bubble for myself, still working on that one but I don't know if that ever happens. But yeah, the short answer to that question is yeah it's very complicated. In particular, living in London, the distance you have to travel, places, and also the pace of London, you feel it. Perhaps a very organized calendar helps as well. I live by my calendar.
B: I mean it's not too unlike a spreadsheet. Is there anything I haven't asked you about that you would like to say or add?
I: No, I think it has been lovely just to think and reflect you know since I'm leaving. It has been lovely just to reflect and I'm glad Hannah put us in touch which has been really nice and it's an interesting place here at Wac Arts. There's so much going on, very similar to the dance community that I was mentioning. Sometimes there's a real disconnect between even the organisations under this roof. It would be nice if my hopes for Wac Arts when I leave is that there is more connection between the building because I think that's a strength, I think it would be nice to see U3A connect with stuff that is happening with Wac Arts. You know do shows in conjunction with Junior Wac Arts and U3A when I pass by the room they are dancing or doing some yoga. I think it would be great to connect a little bit more. Strength is in our connection, just in general. That sounds really philosophical and deep, but I think it is in our connection just as humans.
B: So what you are saying is that right now it's possible for someone in your position to see that there could be more positive connections than there are.
I: Yeah certainly.
B: And somebody needs to foster this.
I: Certainly and I'm hoping that I know there has been a lot of change, things take time, I'm hoping that this next influx of change. I mean I know we started with someone who laid the groundwork, I know the person who came in after had to keep fostering that groundwork and it was a really difficult job to do, achieved that goal and now [Darius] has a really big job to take Wac Arts to the next place. The building is positioned and ready for that. It would be lovely to see that that be done, just connecting all the different organizations that work in the building and having them come together more often, share the work that they do, since everyone in the building does something related to the arts. We should be having an in-house showcase of those works, which would be beautiful. I hope that when I come back to visit, to see stuff like that happening.
B: Are you going to tell them all this?
I: Well I meet the [new Chief Executive Darius Khwaja] next week. I don't know if he'll ask – he will have been here for a couple of days. I don't think he will even be bothered to ask I mean who knows. If they do ask, I'll tell. I'm happy to talk as you can tell!
B: Okay, well thank you very much!
I: Thank you!