The Old Hampstead Town Hall opened in 1878 and operated as Hampstead Vestry Hall 1878, it was renamed Hampstead Town Hall in 1900, and renamed Old Hampstead Town Hall in 1965 when the council left. The building was abandoned in 1994. After campaigning from local residents, the building was saved and in 2000 arts charity Wac Arts moved in and is the current custodian of the building.
With the support of a grant from National Lottery Heritage Fund, Wac Arts is uncovering the rich heritage of the building.
Filling in the gaps
We have already engaged in a great deal of research into the history of the Town Hall and there will be lots of opportunities for the community to find out about this history at exhibitions, open days, Town Hall Tours and more. Keep an eye on this noticeboard, the website and social media for details.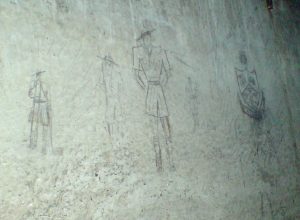 There are some key areas left to be enriched… Could you help us uncover…
[list type="dot"]
[list_item]Wartime activities, especially the Home Guard Unit Based at the Town Hall[/list_item]
[list_item]Do you know any of the people named on the War Memorial Bunkers?[/list_item]
[list_item]Who drew the Wartime graffiti in the bunker and interpretation of the images[/list_item]
[list_item]Images of the inside of the building[/list_item]
[list_item]First person narratives of working in the building[/list_item]
[list_item]Details of one off public (hired) events[/list_item]
[list_item]Details of births, marriages and deaths at the register office[/list_item]
[list_item]Hampstead boasts a range of notable public figures who have lived nearby the Town Hall – can we link them?[/list_item]
[/list]
Please get in contact by emailing Marketing@WacArts.co.uk or pop in and ask for Beth or Hayley.