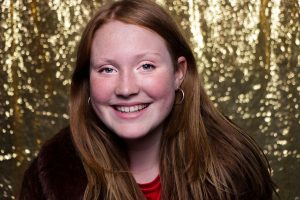 We're back with another interview from our fantastic Youth Voice group! The group have been working hard over the past few months, contributing to events at Wac Arts and having a voice in the decision making at the organisation. Last week we heard from Emma, and this week we're hearing from Evie.
Evie is a member of Junior Wac Arts and has been part of the Youth Voice project since it started. Alongside fellow Youth Voice member Emma, she has taken over the Wac Arts Instagram this week to share her highlights from the WAWA Weekender this year.
How did you become involved with Wac Arts?
Well, we've always lived around here so whenever we were driving up here or looking around or taking money out from the cash point we would always see this building and then one day my mum was like 'Let's check it out, let's see what it's all about.' Then we went in and my mum signed me up and she said 'You're gonna try it and see what it's like' and this was like four years ago and I've just been going ever since.
What classes did you start when you first came?
It was drama – I did drama for two years. Now I'm doing so many other things, I'm doing singing, guitar and a longer session of drama.
What is your favourite story or memory from Wac Arts?
I'm not sure I have a particular favourite memory, just all in general, there are a few, fun and special parts. I like being part of the Youth Voice group, it's very fun. Everyone's very kind.
Have you done any sharings where people have come along and you felt proud of your work or anything like that?
Yeah, in singing we did solo performances. We had to do a solo and it was quite hard for me because I'm quite shy when it comes to singing and I did my solo and everyone was very, very supportive, and it was really nice.
Were there any heritage stories that you found particularly interesting?
Well particularly for me it was the story about the suffragettes being here. It was like' I come to this building all the time, every week and you never really know these kind of things' and it's really, really interesting. The suffragettes came here and it was very special.
What would you like to see the Weekender be like?
Well, I think it would be like, in my imagination be very jolly and open, half would be outside and half would be inside. I think I'd imagine it to be like nice and summery and colourful and there would be lots of different things you could do. Not just watching things but maybe activities that the people who are there can do, and should definitely be about the heritage of the building and maybe there could be a big screen with the film. Maybe there could be a bake sale.
Why does Wac Arts matter to you, the young people who attend and today's society?
I think it's a very special place and you don't really find that many places like it where you can just come, have fun and be creative, learn new things and be with your friends, it's just really fun. I think it's great because it's so diverse culturally and you see so many different people come here and it's great to be in that environment from a young age. It's also great because it's so useful and it's helped me with my acting and my singing and everything so, so much. It's just so so good. I think it does matter to society because when people come here they will be affected by everyone here and their kindness and the great things that happen here. You know we don't have any community centres or anything around here so it's a really great place because you get to know quite a few people who live around you and it's really good.
Can you please leave a birthday message for Wac Arts?
40 years, yay! It's so great, it's amazing that it's been going on for 40 years, so yay!