Wac Arts Dance Company
Calling all dancers…
Are you aged between 16-25 years old? Do you want the opportunity to train and perform as part of a company working with some of the UK's best choreographers?
Wac Arts Dance Company is back! After a tremendous start in the summer where we worked with 14 incredible dancers and 2 guest Artistic Directors – Lukas McFarlane and Established Dancers and Choreographers – we are now officially back in the studio offering a new year-long programme!
TRAINING, CHOREOGRAPHY AND PERFORMANCE
The Wac Arts Dance Company will meet every Sunday of term time, 12:30pm-3:30pm. The Company will be led by an Artistic Director plus guest choreographers, who will work collaboratively with the group to create a new dance piece to be performed in the Spring (provisionally May 2022). The Company can expect to have on average one dance performance opportunity per term, depending on the available performance platforms throughout the year.
Our guest artistic directors will you give weekly training sessions that encompass technique development, performance skills and choreo tasks, taking your creativity and choreography to a whole new level. The Company will be working towards a large-scale choreographic project that will require generating your own choreography as well as rehearsing work ready for the performance in the Spring.
The Company require a year-long commitment from October through to July; regular attendance is important to ensure a smooth creation and rehearsal processes. We want you to have fun, learn and sweat with the best.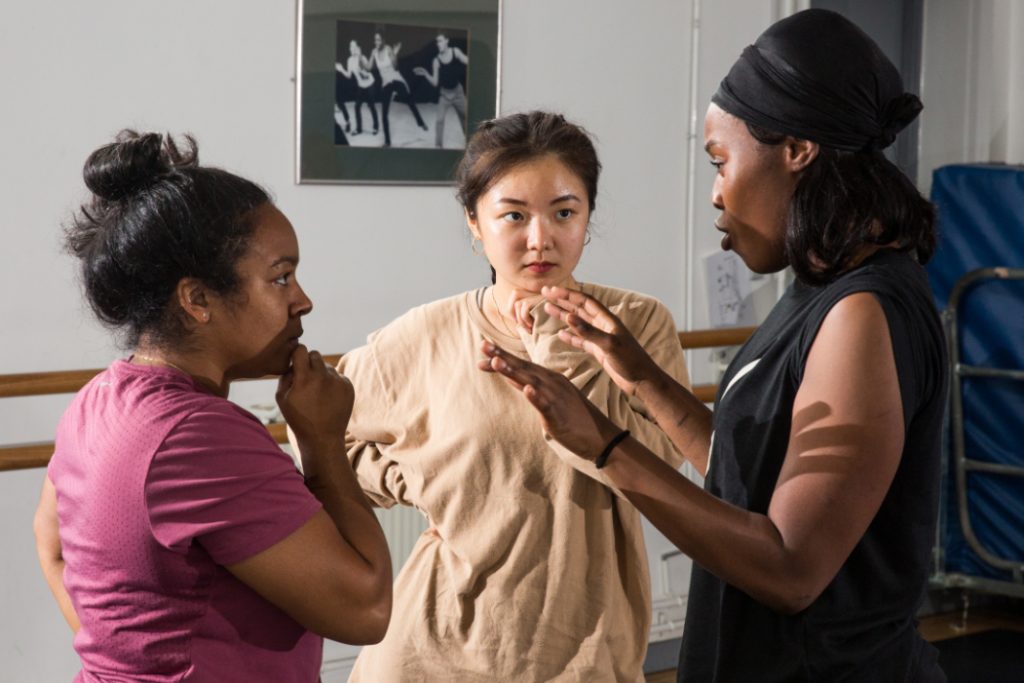 HOW TO JOIN
We are holding a FREE taster/audition classes on Sunday 7 November, 12:30pm-1:30pm, where you can experience our incredible choreographers.
We have only 18 spaces available, so please register your interest soon to secure a place at our FREE taster session, by completing this form.
2021/22 Company FEES
Company membership for the year is £140 (£5 per class)
Payments are invoiced on a termly basis, as below:
Term 1: £35
Term 2: £50
Term 3: £55
Intensive residentials and rehearsal processes during the Easter period will be offered for FREE.
BURSARIES
We want to make sure that everyone provided a place to train within the Company able to access this offer. For this reason, we aim to keep our fees as low as possible.
For those who have genuine difficulties in meeting these fees, we have bursaries available where we can offer reduced rates in special circumstances. For more information on bursaries please email our Head of Learning and Participation.
2021/2022 COMPANY DATES
Taster/audition day Sunday 7 November 2021, 12:30pm-1:30pm
Term 1 (5 weeks):
Sundays, 12:30pm-3:30pm, 7 November to 5 December
Half term / class closed: 31 October 2021
Term 2 (10 weeks):
Sundays, 12:30pm-3:30pm, 9 January to 27 March 2022
Half term / class closed: 13 & 20 February 2022
Easter residential:
Rehearsal schedule TBC
Term 3 (11 weeks):
Sundays, 12:30pm-3:30pm, 24 April to 5 June 2022
Half term / class closed: 29 May & 5 June 2022
Additional information
Dancers should arrive 15mins before their taster session to register in person
Late comers will not be permitted
You need to wear comfortable loose clothing…NO Jeans, shoes etc. Bring water with you.
You must be available for all the Sunday sessions.
Age range is 16-25 years old.
This is not a beginner company; intermediate dance experience will be required.
Company members will be required to attend every Sunday, throughout term times, and intensive residential and rehearsal periods (Easter).
Wac Dance Arts Company get invited to perform at professional venues and events. You must be committed to performing at these.
Age guidelines: Wac Arts gives priority to dancers who are in the adverstised age range. However, if spaces become available, we would love to meet you. If you are above or below the age range, please contact us directly to place your name on a waiting list. Email admin@wacarts.co.uk. We will be in touch with you closer to the time should there be availability.
Dancers with experience across any styles are welcome. You may be studying or have trained in dance and/or performing arts to be eligible to join the Company.
For any further questions please email us on: admin@wacarts.co.uk