Senior Wac Arts
Enter into the professional world of performing arts and media
Senior Wac offers Sunday classes for 14-26 year olds who are considering a career in the creative and performing arts, or who are looking for high quality training to develop their skills.
Our artist tutors are top professionals in their disciplines with a vast range of experience to share.
Applications for the summer term 2022 have now closed. Sign up below to be the first to hear when booking opens for September 2022.
*We expect booking for the next academic year to open in early June.
About Senior Wac Arts
Senior Wac Arts is a vibrant training ground for emerging talent in the world of performing arts and the disciplines of digital media.
Our programmes are delivered by industry professionals who offer a high standard of training to help attendees reach their full potential, and bridge the gap between being a beginner to becoming a professional. People trained via our programmes have gone on to become award-winning Arts professionals, and many have been supported to enter into the highest standard of formal Arts education.
We have excellent facilities with full disabled access at our building, only minutes away from Belsize Park Underground station.
Subjects
Please see below our subject types, fees and term dates.
Drama
In these sessions, you will work on breaking down text and finding the motive behind every line and understanding why a playwright uses the words they do. We will also delve into character work too, so that, no matter who we are playing, we never judge the character but instead strive to understand them and bring a version of them to us.
Professional approaches to Acting
Our tutors are well-versed in industry knowledge for theatre and TV. They will provide you with need-to-know practices for audition prep, monologue performance and presentations. This is an ideal experience for those attending drama school or responding to industry call outs.
Physical Theatre
In these sessions, you will work both with text and improvisation and explore how to safely portray emotions physically and in a way that you can repeat the options time after time on stage. We'll try and find a way of expressing the things we struggle to put into words, whether that be joy or sorrow, wonder or rage.
Singing
Singing is designed for those that love to sing, those just starting out with singing and looking to grow in confidence and learn techniques. Group vocal coaching and singing sessions centre around professional singing techniques for live performance, including musical theatre.
Advanced Singing
Advanced Singing is designed for singers with experience of vocal technique and those with the confidence to sing and perform solo or as part of an ensemble. This class will advance your technique and performance experience. Group vocal coaching and singing sessions centre around professional singing techniques for live performance, including musical theatre.
Dance
Over the course of the year, our dance classes will introduce you to a range of styles, improve technique and introduce opportunity for choreographic exploration.
Advance Dance
Our advanced dance classes are aimed at those with some level of previous dance experience and are especially suited to those wanting to build their experience and work on longer performance pieces.
AERIAL
In these practical sessions you will learn the fundamentals of aerial technique and how to execute specific skills on aerial silks and aerial hoop, while building the required strength and stamina. Furthermore, you will learn how to combine the taught moves to create longer sequences and choreographed routines.
2021/22 TERM DATES
Autumn term:
Sunday 3rd October 2021 – 5th December 2021 (8 weeks)
Half term week:
Sunday 23rd October 2021 & Sunday 31st October 2021
Spring term:
Sunday 9th January 2022 – Sunday 27th March 2022 (10 weeks)
*January 2022 programme may be subject to change due to possible Covid restrictions
Half term week:
12th February 2022 & 19th February 2022
Summer term:
24th April 2022 – 22nd May 2022 (5 weeks only)
2021/22 Class Fees
£2.50 per class for all one-hour sessions and instrumental tuition.
£5 per class for all two-hour sessions.
Classes will be invoiced on a termly basis. In the unlikely event that classes are undersubscribed, Wac Arts reserves the right to cancel scheduled activities.
BURSARY
Wac Arts uses the arts to empower young people to transcend the barriers they face to opportunity and in so doing, plays its part to reduce persistent inequality in our society. In practice two principles are used to inform our decision-making:
1. Classes and activities are priced at levels to ensure they are genuinely affordable for people and families on low incomes
2. Everyone at Wac Arts pays the same fee regardless of their ability to pay
Wac Arts can offer bursary support to the following:
The recipient is currently in care or is a care leaver
The recipient is aged between 5-26 and currently seeking asylum in the UK
The recipient is a full-time carer for a parent or sibling
The parent/ guardian/ young person is in receipt of universal credit
To apply for a bursary please read our Bursary Policy. The application form can be found at the bottom of our bursary policy.
Facilities
We have changing rooms, showers and lockers for those taking part in physical activities. We also have a number of quiet, comfortable areas for students to relax or study between classes.
Terms and Conditions
News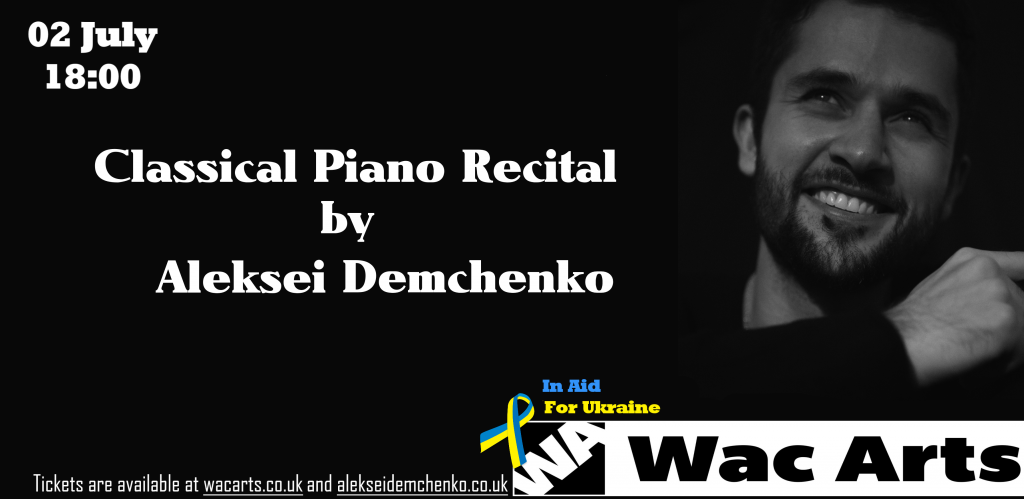 Saturday 2nd July at 6pm recital in aid of Ukrainian Refugees. Aleksei Demchenko will perform preludes by Chopin, Rachmaninov and Scriabin. A rising talent and internationally award-winning Aleksei was born in Almaty, Kazakhstan before…
Wac Arts
Senior Wac Arts
Old Town Hall
213 Haverstock Hill
London NW3 4QP
General enquiries: 020 7692 5800
Email: Admin@WacArts.co.uk