International Students
Our city is world renowned for being one of the most multicultural and exciting places to live and study. London's creative industries are buzzing with new talents and ideas, and our course reflects the diversity of the modern, international industry.
We welcome students from all over the world to the Wac Arts Diploma programme. The range of experiences, ideas and stories they bring is one of the reasons our course is like no other.
The unique content of our Diploma produces complex, individual artists who thrive as performers. Expect to leave Wac Arts as a distinctive performer, well-equipped to seek life-long professional success.
London is an extremely diverse city in which anyone can fit in and we make every effort to support students from abroad to settle and train successfully in the city. Regular one to one meetings, tutorials and year group sessions mean that the lines of communication are always open and we are here whenever our students need us. Just knock on the office door, send an email, pick up the phone… we are here to make your experience and training in London the best it can be. Being so close to the West End and easy transport links to the other beautiful cities and the UK countryside means you will never be bored.
International students, prepare to fall in love with London and make lasting friendships and memories, all whilst being trained for a lifelong career in the arts.
Come to us if you want to broaden your horizons in London!
---
Your chance to meet an international student…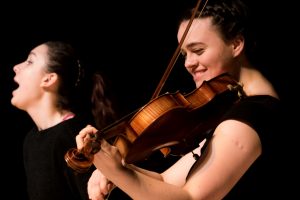 We caught up with Elzbieta Kalicka a second year Diploma student about her experience in coming to the UK to train from abroad…
How did you find out about Wac Arts?
I found out about Wac Arts through my singing teacher in Poland, her friend, Paulina was a recent graduate.
What was it about Wac Arts that made you choose to train here?
Very practical, vocational approach to training, broad range of styles and techniques and scholarship opportunities.
What has been your favourite moment on the course?
There were loads of good ones, if I had to pick one it would probably be end of year production in my first year – I was given a singing solo I really enjoyed! Another one would be probably fencing classes, a lot of fun!
What do you hope to do when you finish training and how do you think Wac Arts has helped you to get there?
After Wac Arts I hope to get into musical theatre industry, the course prepares me for it by allowing me to train in diverse styles and techniques in all three areas: singing, dance and drama and bringing in teachers who work within the industry.
How easy/ hard did you find getting accommodation and funding to live in London?
It's not an easy task, especially that before coming to London I was depending on my family. But with smart budgeting everything is possible. I was lucky enough to have a friend to share a room with from the beginning of my stay here.
What would you say to other International Students looking to train in London?
It's an exciting place to live, explore and study in! Don't be afraid to take chances, you will grow a lot not only as an artist but also as a person.
---
Accommodation
There is lots of suitable private student accommodation within easy travelling distance to Wac Arts. Good places to look are Camden Town, Kings Cross, Finsbury Park and Old Street.
www.zoopla.co.uk
www.spareroom.co.uk
www.gumtree.com
www.rightmove.com
www.accommodationforstudents.com
---
Auditions
The audition process follows three stages, commencing with workshops in each of the three art forms, solo presentations in each art form of drama, dance and singing followed by an interview.
Stage 1
Candidates will need to participate in workshops in all three art forms.
Stage 2
Candidates will deliver a solo in all three art forms, in line with the following requirements:
Drama solo: this can be any published speech or monologue that can be delivered 'off the page'
Singing solo: a full song from any contemporary material (this can either be acapella or with a backing track)
Dance solo: a maximum two-minute piece, with or without music.
Stage 3
Candidates will then be invited to interview.
If you are over 16 with talent, enthusiasm and commitment and you meet the following entry requirements, we want to hear from you.
---
Audition Dates
Next audition date is Wednesday 1st August 2018.
We understand that for students who live outside of the UK, it may be difficult to attend our normal audition dates. We can accept audition videos/Skype and can arrange special dates to meet you if necessary, just get in touch with the diploma team to let us know on Diploma@WacArts.co.uk.
---
Visas
If you are an EU citizen, you do not need a visa to study in the UK.
If you are applying from outside the EU then you will need a student visa.
Wac Arts is a Tier 4 student visa sponsor.
---
Language
We accept people from all over the world and many of our students have English as a second language. However, to study successfully on the diploma, it is important that students are able to speak and write fluently in English.
Students applying for a student visa are required by the UK Home Office to prove their knowledge of English when applying. More details of these requirements can be found on the home office website.
---
Course Fees
We have bursaries available! Please contact us to find out more
Please note Wac Arts bursaries are about your ability to pay – all our admitted students have the ability to perform.
Our three-year Diploma costs £12,000 per year for students from outside the EU.
For more information on what to expect from the diploma visit the Student Life section and FAQs

For more information

Wac Arts
Old Town Hall
213 Haverstock Hill
London NW3 4QP
T : 020 7692 5872
E : Diploma@WacArts.co.uk