Junior Wac Arts
Having fun whilst developing talent in performing arts and creative media
Classes for 5-14 year olds on Saturdays in term time from September to May.
Young people learn new skills in performing arts and creative media, whilst forming friendships, gaining confidence and exploring their creative potential.
Applications for the summer term 2022 have now closed. Sign up below to be the first to hear when booking opens for September 2022.
*We expect booking for the next academic year to open in early June.
About Junior Wac Arts
Being part of the Wac Arts community inspires young people to grow, motivates them to achieve and importantly gives the time and space for the arts that is becoming increasingly limited within the mainstream school day.
We have excellent facilities with full disabled access at our building in Belsize Park, as well as tutors who are leaders in their art forms. Our Junior programme also provides the best foundation to progress on to our Senior Wac Arts programme, where they can develop professional skills led by industry experts.
Subjects
Please see below our subject types, fees and term dates.
Dance
Dance classes are offered for all our children and young people from the age of five and up. Classes are fun and develop expression within dance through the exploration of projection and performance skills, style, musicality, focus and choreography.
Drama
Drama is offered to children and young people between the ages of five and fourteen in a selection of age appropriate classes. Our drama classes explore improvisation, drama techniques and the 'rules' of acting, drama games and exercises.
Ballet
Children can join ballet classes from the age of five to seven.
Music Technology/Production
Music Technology/Production for young people from nine years of age. Learning the basic skills involved in sound recording, Music Tech students are based in the Wac Arts recording suite for their classes. The young people explore studio techniques and compositional skills.
Singing
Singing classes for children and young people start from nine years and up. Students sing as a group and there are opportunities to sing solo and in small groups so that individuals can progress at their own pace.
Video Production/Film Making
With a strong 'hands on' emphasis, the students have plenty of opportunities to practice their skills first hand, as well to learn video theory and media language. They learn a range of video production skills from pre to post production including writing their own treatment, short scripts and pitching their ideas to the group.
Digital Animation
Students learn a range of animation skills from storyboarding and composition through the entire process of creating and editing their work on screen. Students are introduced to different software and encouraged to experiment with various styles of animation.
Percussion
In these group sessions, children will have fun and games on African drums and percussion, learning and building confidence. They will develop rhythm, teamwork and skills.
Music Workshop
In these group sessions, children will work as a music ensemble to develop teamwork, listening, and performance skills.
Instrumental Tuition
Instrumental tuition is offered in 30-minute slots, to two children at a time. Sessions will develop technique and personalised music appreciation across different styles of music. Tuition is available across guitar, keyboard, and drums. Drums will be taught in groups of up to three.
2021/22 Class Fees
£2.50 per class for all one-hour sessions and instrumental tuition.
£5 per class for all two-hour sessions.
Classes will be invoiced on a termly basis. In the unlikely event that classes are undersubscribed, Wac Arts reserves the right to cancel scheduled activities.
2021/22 Term Dates
Autumn term:
Saturday 25th September 2021 – 4th December 2021 (9 weeks)
Half term week:
Saturday 23rd October 2021 & Saturday 30th October 2021
Spring term:
Saturday 8th January 2022 – 26th March 2022 (10 weeks)
*January 2022 programme may be subject to change due to possible Covid restrictions
Half term week:
12th February 2022 & 19th February 2022
Summer term:
23rd April 2022 – 21st May 2022 (5 weeks only)
Bursary
Wac Arts uses the arts to empower young people to transcend the barriers they face to opportunity and in so doing, plays its part to reduce persistent inequality in our society. In practice two principles are used to inform our decision-making:
1. Classes and activities are priced at levels to ensure they are genuinely affordable for people and families on low incomes
2. Everyone at Wac Arts pays the same fee regardless of their ability to pay
Wac Arts can offer bursary support to the following:
The recipient is currently in care or is a care leaver
The recipient is aged between 5-26 and currently seeking asylum in the UK
The recipient is a full-time carer for a parent or sibling
The parent/ guardian/ young person is in receipt of universal credit
To apply for a bursary please read our Bursary Policy. The application form can be found at a link at the bottom of our bursary policy.
Facilities
We have changing rooms, showers and lockers for those taking part in physical activities. We also have a number of quiet, comfortable areas for students to relax or study between classes.
Terms and Conditions
News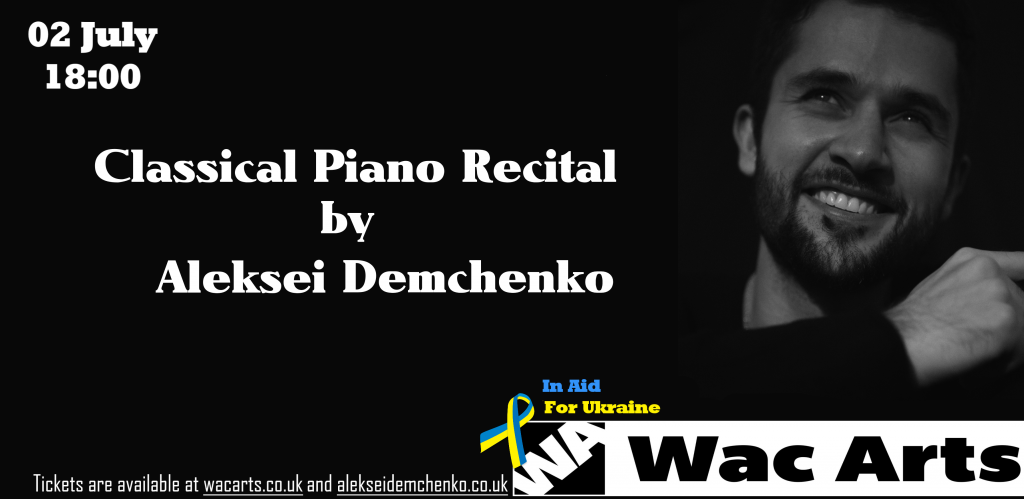 Saturday 2nd July at 6pm recital in aid of Ukrainian Refugees. Aleksei Demchenko will perform preludes by Chopin, Rachmaninov and Scriabin. A rising talent and internationally award-winning Aleksei…
Wac Arts
Junior Wac Arts
Old Town Hall
213 Haverstock Hill
London NW3 4QP
General enquiries: 020 7692 5800
Email: Admin@WacArts.co.uk