Junior Wac Arts
Having fun whilst developing talent in performing arts.
Classes for 5-14 years old on Saturdays from September to May and in the school holidays.
Students are given the chance to learn new skills in performing arts and media, gain confidence and explore their creative potential.
About Junior Wac Arts
Classes are offered in ballet, drama, movement and dance, music, music technology, percussion, singing, video production and digital animation. In addition to these group classes, we also offer individual or paired instrumental lessons in drum kit, guitar, keyboards and saxophone.
We welcome you to either drop off your young person or stay and join our parent/carer community. We have a play room for young children, cyber cafe and fun activities happening every Saturday. The views of our parents and carers are important to us, we therefore operate a parent and carer committee, which meets regularly.
We have state of the art facilities at our Belsize Park base, in the Old Town Hall, to inspire and motivate. The programme provides a fantastic foundation for progressing on to our Senior Wac Arts and Wac Arts Nites projects as young people develop and grow. We also have summer and holiday programmes where young people can learn new skills such as aerials and circus, parkour, 3D printing, animation and more.
Tutors are warm and enthusiastic, aiming to bring out the best in every Junior Wac Arts student. All classes have a strong emphasis on fun and friendship, as well as teaching children and young people the basic skills in their subjects, aim to encourage a life-long love and appreciation of the arts.
Wac Arts offers fantastic, professional standard facilities, with purpose built and well-equipped arts and media studios in a building that has full disabled access. We have changing rooms, showers and lockers, with a number of comfortable areas for students to relax. There is also a quiet area where students can study between classes. All of this works towards inspiring children and young people, giving them the best start in the performing arts and motivating them to achieve. Wac Arts can also provide the extra time and space for the arts that is becoming increasingly squeezed within the mainstream school day.
Junior Wac Arts has a range of extra activities to broaden and enrich our students' experience while they are with us and our Junior programme can also be a fantastic foundation for progressing on to our Senior Wac Arts and Wac Arts Nites projects as they develop and grow.
Performances
Students have the chance to perform in our professional performance space in the Old Town Hall and take part in offsite activities such as performing at The Hampstead Festival.
Holiday activities
Over summer and half term breaks we run projects such as Band School, Circus School, Parkour, Photography, Film Making and much more. We also arrange days out to Museums and the Theatre!
Family Fun Days
We also arrange occasional programmes to introduce Junior Wac Arts students and their families to our more specialist facilities. Families have been able to take full advantage of the fantastic aerials equipment installed in our studios. As well as experiencing the incredible fun involved in flying through the air, they are able to strengthen family bonds and take away shared memories of something really special!
Parent and carer committee
The views of our families are very important to us – we want to ensure students enjoy their classes and get the most out of their time at Junior Wac Arts. We therefore operate a parent and carer committee, which meets regularly during class time on Saturdays and actively feeds into all the decisions we make.
Extra fun activities
At Junior Wac Arts we always like to have fun and arrange various extra fun activities throughout the year. These include overnight sleepovers at the Natural History museum and our annual Panto trip, which is always an important part of our Christmas celebrations!
Fees and bursaries
We want to make sure that everyone who wants to attend classes in the performing arts and media is able to do so. For this reason we aim to keep our fees as low as possible and offer discounts for children attending more than one class.
We also offer a 10% discount if you pay for the whole term fees in advance at the beginning of term. For children who have genuine difficulties in meeting these fees, we have occasional bursaries available where we can cover class fees in special circumstances.
1 class per term – £27
2 classes per term – £44
Additional classes thereafter – £22 per class, per term.
Junior Wac Arts Term Dates
Spring Term: 11th January – 28th March 2020
(half term 15th & 22nd February)
Workshops: 28th March 2020
Summer Term: 25th April – 16th May 2020
Newsletters and Timetables
Download our current and archived newsletters and class timetables here.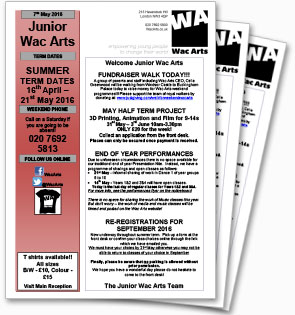 News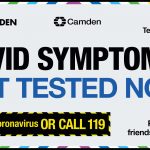 While rates of coronavirus remain low across Camden, there has been a small increase in cases over the past three weeks. Help keep cases low by washing your…
Wac Arts
Junior Wac Arts
Old Town Hall
213 Haverstock Hill
London NW3 4QP
General enquiries: 020 7692 5888
Email: Junior@WacArts.co.uk