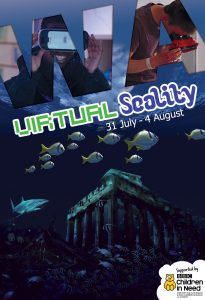 Dates: 31 July-4 August
Time: 10am-3pm
Ages: 12-18
Summer has arrived and the sun is shining bright so join us in taking a dive into the depths of the sea!
Using 360 camera technology you will create a 4D under the sea virtual reality experience through drama, music and multi-sensory art. Create an experience full of mysterious sealife, lost ruins and frightening predators.
Transform your reality into a new watery world!
For more information please email Reach@WacArts.co.uk.