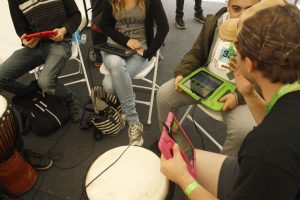 It's been a busy start to September here at Wac Arts – as well as Revolution Wonder Wac Arts have been out and about at lots of different events. On Saturday September 3rd they were at Liberty Festival with our friends at Shape Arts, spreading the word about the great work we all do opening up technology and the arts to people with disabilities – this also coincided with National Paralympic Day! On Sunday we were back at the Queen Elizabeth Olympic Park for Parallel – the world's first fully inclusive push/run. Four Wonder Wac students and four members of staff took part, running 10km, 5km and 1km between them, setting pretty admirable speeds! In the afternoon we had a stall in the family festival area, showcasing all the inclusive tech we use on a daily basis. We had visitors queuing up to try stop motion animation and do their best weatherman impressions on our green screen. As ever, our musical bananas were a huge hit, proving that it doesn't need to be a musical instrument to make noise, and everybody loved getting involved in our raucously noisy iPad orchestra. It was a great chance to catch up with other London based charities and groups, like Electric Umbrella who work with individuals with disabilities through music based programmes, Camden neighbours NFC Helps Me, who have created an award winning app to teach people life skills in a simple, accessible way, and the whole of the Barclays team in the Tech Zone.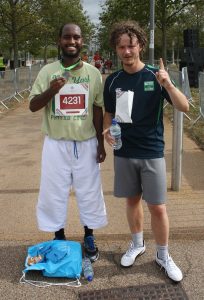 Of the weekend of events Wac Arts Interactive Co-ordinator Tommy Edwards said, "We had a great time hosting our interactive stall with Shape Arts at the Liberty Festival that coincided with National Paralympic Day. It was an absolutely fantastic celebration of disabilities. Then on Sunday not only did staff and young people run a combined 50km but our workshops were in full flow, putting huge smiles on faces on lots of young people's faces at the very first Parallel London. What an honour it was to be part of such a wonderful event."
We really are so proud to have taken part in such a fantastic event – and what's more, our runners set a fundraising goal of £500 in order to help raise more money to continue our vital work – and we're delighted to announce that we've completely smashed this target, raising over £650! The campaign is still open on Just Giving so if you'd like to say well done to the gang and support Wac Arts why not give us a quid? All monies raised will go straight back into our programmes, meaning that we can continue innovative programmes like Wac Arts Interactive that champion inclusivity and independence for young people with disabilities.