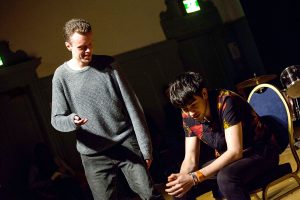 As Wac Arts heads into our fortieth birthday, we have been talking to the young people who are current attendee and those who are alum about their experiences at Wac Arts. You may of seen on our social media that we have been capturing these conversations to give our networks a sneak peak into our community and life at Wac Arts. John Gaine, who has been attending Wac Arts for over ten years came in to chat with us about Wac Arts, his experiences and what Wac Arts means to him. John now volunteers with our Disability Inclusion programmes and will be joining the Professional Approaches to Drama class next term – the first young person with a disability to do so! These classes will be free of charge, as John is also a recipient of the Peter Brinson award, given to those who attend 100% of their classes in an academic year.
John sat with Tommy Edwards, Wac Arts Interactive Co-ordinator and Reach Officer, to talk about his time at Wac Arts.
TE: How did you find out about Wac Arts and get involved at the very start of your journey?
JG: Well, I was still in secondary school at the time. They came over to do a little project, and I found out who they were from there. This was when I was thirteen – I'm twenty-four now. Time flies by! I went to Wac Arts and did a few projects, mostly film projects and – yeh, it's been project after project from there for eleven years.
TE: What has your role been as a volunteer at Wac Arts?
JG: Mostly assisting the young people and making sure they get the job done. Giving them advice – praising them when they do good work, and watching and participating in their work. When they have a good showing, I get a good warmness in my heart from helping them out. And we can make bigger and better things as we go on.
TE: What skills has Wac Arts given you?
JG: Speech, definitely speech, because I have Asperger syndrome and it was a big problem early on. I'm lot better public speaking now. I've learnt skills from it – I've learnt filmmaking, video editing, how to use a bunch of different programmes. You know, skills, experience, speech – those are the three things I've learnt.
TE: What about volunteering skills?
JG: Communication is another big thing there. Communicating with others. Being in a kind of advisor, mentor capacity as part of the old guard. Giving the young people more skills and helping them grow as I've grown and got on with life.
TE: Has it helped you with your career?
JG: Well, speech-wise yes. Applications and interviews. As far as actual jobs skills, not completely because I do have different interests (John works as a Quality Assurance tester for Video Game Developer SEGA). But I have learnt a few skills that could help me get into other things, such as minor editing work.
TE: What's your favourite memory of Wac Arts?
JG: My favourite memory – that's a really good question. 'Coming through Mars' and 'Die Easy' – and you probably don't know what I'm talking about! Those are two short films that we made in my early days of Wac Arts. I played the main role in one of them and starred in the other one. I'd still go on record to say years later, they're the best thing I've done here, and I'd like to do something on that scale again. Although I have done other good things! Such as the radio programme, the two TV projects and, well, from what I've heard, they're going to do bigger and better things and I'm going to stick around as much as possible to help out on them.
TE: What has your favourite activity been?
JG: My favourite activity – I like drama. I'm a big fan of drama – in secondary school, I wanted to go on to that. I do a lot of roleplay – I've been doing a role play for four, five years on the programme so that's given me a lot of drama experience as well. So doing Senior Wac Arts is good for me. I've been doing that for three years now. I'm a dramatic person. I like to perform.
TE: What does Wac Arts mean to you?
JG: It means an expanded life. A better life. A chance to open up with likeminded people and grow as a person. That's what I felt in the eleven years I've been here.
TE: And do you have a message for Wac Arts? For everyone who attends or might attend.
JG: Don't be afraid. Be confident, because there are people here who will help you grow that confidence. And you'll create great things here.
Thank you to John for sharing his story with us – be sure to follow us on Twitter or Facebook to be notified when we post our next interview with one of the original cohort from 1978, Elaine Grant. Elaine talks about Wac Arts back in the day and everything she has done in her career since. Make sure you give it a read!