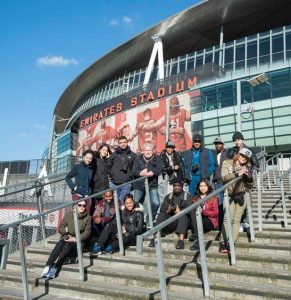 One of our students and volunteers, Zak Osman was recently involved in the Wembley to Soweto, Arsenal in the Community Project.
Arsenal in the Community partnered with The Wembley to Soweto Foundation to offer 8 young people the opportunity to receive three consecutive weeks of intensive photographic teaching by professional photographers, and to learn how to capture images and tell stories using SLR cameras. The aim of the project is to offer young people various learning opportunities and the experience of a real world work environment whilst developing their photographic skills, making a positive contribution to society and giving them a sustainable craft to take into a competitive job market.
One of the trainee photographers, Tshepang Masemola, 17 years old from Hillbrow, Johannesburg spoke about the influence the project has had: "I really wish and hope that 'Wembley to Soweto' can be a big tree that grows a lot of branches to let the world know about photography and how what we experience in our everyday lives can be interpreted through pictures. I have learned that I have to persevere in terms of any hardship I come across. Instead of just sitting down and waiting for help, I need to go out there and do it myself."
Wembley to Soweto is an international photographic charity backed by Nelson Mandela's grandson Kweku Mandela. The Wembley to Soweto Foundation was set up 5 years ago aimed at giving underprivileged young people from South Africa and other nations photographic training, exercise their creativity and to enable them to earn money from the skill. Aiding this initiative further The Hospital Club offered their support and asked Wac Arts if a student wanted to join the project.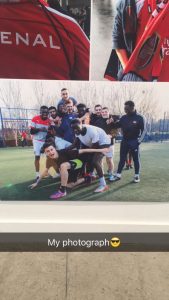 Wac Arts student Zak Osman was offered the opportunity to take part in the photographer's initiative. Zak regularly takes photos of events and programme activity for Wac Arts as well as being a big football fan. His and selected others that took part, saw their work published each day (that the project ran) on the Guardian website as they documented the difference that can be made by 'learning through a lens'. The young aspiring photographers also got to see their work exhibited in The Hospital Club's gallery space in Covent Garden. The private members club exhibited a selection of photos that were taken by the young photographer trainees. Hollywood Film Star Stockar Channing was even in attendance!!
"The Arsenal in the Community photography project through the Wembley to Soweto Foundation has been a intense but also an amazing experience.
My time working with a group of 8 students and also with professionals in the photography field as been beneficial not just for making me realise my passion in the media industry but for my life going forward.
I've enjoyed doing a lot of assignments but if I had to pick one assignment that was the best it would have to be the Eurostar assignment. It really got the best out of me and I got to a stage properly that I've started to settle with the group.
I was nervous coming to the exhibition as mine and the groups photograph was exhibited. But as the private view went on during Friday night and after seeing the work that I'd done, I started to feel a whole lot better and I am very pleased to be able to achieve and accomplish something out of my comfort zone."
What an inspirational project! We look forward to seeing these budding photographers have successful creative careers.