[pullquote]'The ethos that the Arts is for everyone is steeped in the walls and floorboards of the organisation'
Elaine Grant shares her Wac Arts memories[/pullquote]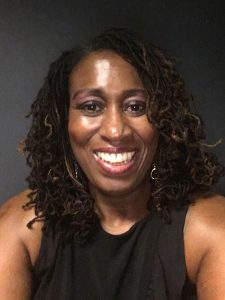 Read the previous parts of this interview here: [Part One] [Part Two]
In the last interview in this series, Wac Arts alum Elaine Grant tells us about her favourite memories of Wac Arts, and why she travels an hour across London with her daughter so that she can come to our classes.
HB: So what would you say is your favourite Wac Arts memory?
EG: It was quite a traumatic memory actually, but it just showed me how supportive and loving the Wac family was. Fusion were performing at Wac Arts and I was singing the ballad 'The Greatest Love of All', but the teacher had pitched the song far too high for my vocal range. You know when you're singing something, and you know it's too high, and you're trying to get there, and I started tossing flat and I couldn't get back to the correct notes – I got to the end, but I came off stage and I burst into tears. But – all of a sudden I just felt numerous arms surrounding me and the Fusion team gave me the most incredible group hug and said 'Elaine, don't you worry, don't you worry'. That memory stays in my mind, that feeling of togetherness, the sense of 'we're all in this together'. Everybody is going to mess up at some point but don't worry. It did give me the strength to just carry on and continue the show, because I was quite distraught because I was so disappointed in my performance.
I don't know whether you've heard about people like Albert and Margaret who used to be the cooks at Junior Wac Arts. Sometimes people would – even if they weren't doing classes, come to eat at Wac Arts on Saturdays, the food was so good! Those days you never forget, that community spirit, even though the children weren't mine I still felt an intense responsibility for their well-being and proud of their many achievements. That's why it is important to share that experience with my children and why I bring my daughter to Junior Wac Arts every Saturday, because I've experienced the true value of this unique organisation. Often people say, why do you travel with your daughter for an hour for only two classes? I know why. I've done it, I've been there and I want her to experience it. It's not just about the classes – she's making new friends, she's learning new creative skills, and it's important to her development. And it's that legacy! Yes I could send her to another place, these ballet schools where it's all graded and they're all in pink tutus and blah blah, but I love Junior Wac Arts, when I look back at the videos and there are kids in their trainers, doing ballet in their tracksuit bottoms – well that the unique inclusivity of Wac Arts – everyone is welcome – the ethos that the Arts is for everyone is steeped in the walls and floorboards of the organisation.
HB: That's the beauty of Wac Arts!
EG: Absolutely and long may it continue because that to me just speak volumes, this place means so much to so many – you speak to anybody, everyone will have a different story. Everyone's has had a different experience but the majority of the people you speak to will have a positive experience and I could honestly say Wac Arts will always be a part of my life in some shape or form.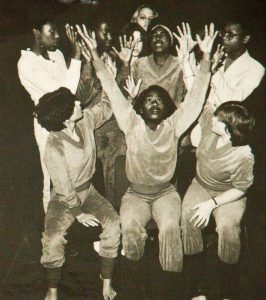 HB: What would you like to see in the future for Wac Arts?
EG: Going back to Fusion – it would be nice to have another youth arts company, a young person's company. That's what I'd love – that's my dream. For them to be directors, producers, writers, lighting and sound designers. That's my dream – bring a new version of Fusion back for 2019.
HB: How about Wac Arts' 40th Birthday, how would you like Wac Arts to celebrate?
EG: We should create a book to document the photo history of Wac Arts and hold a massive party and invite as many of the people associated with the legacy of the organisation. Each person should be asked to give like a testimony, a few words about what Wac Arts has meant to them. If there's any old footage, like film or videos, digging through the archives and looking back, that would be great. Everybody loves to look back at pictures, videos and things, you look back and you laugh and remember the great memories. That happened at the 35thanniversary celebration, we become kids again! When we were on the stage, we became like 14, 15-year olds, and it's just so lovely. To re-create that feeling again would be amazing! I think everybody's got a warm place in their hearts for this organisation. Massive thanks to Celia and Theresa for creating something so wonderful and changing the lives of thousands of young people. For me, Wac Arts means legacy, because it will never end.
HB: The 40th will be a fantastic chance for the young people at Wac Arts to curate and shape the celebrations, having a creative input across the whole year and especially the Festival in March 2019. To have all of the generations of Wac Arts in attendance, celebrating how this place has changed their lives that will be special. For the people who were here right at the start, coming together with those who are here now… all celebrating together alongside the staff who have invested so much passion and love into the organisation. I think there's something really beautiful in that isn't there?
EG: Absolutely!
Thank you to Elaine for meeting with us to talk about her time at Wac Arts. Be sure to check back for more interviews with our alumni as we celebrate our 40th birthday later this year.