Whilst the rest of us were sat on the sofa eating mince pies and watching Christmas specials on TV, Wac Arts supporter Sam Edge was having a rather different December… After months of training he flew over to Africa to attempt to scale Mount Kenya – a staggering 5100m – to raise money for Wac Arts. Shortly after he made his ascent he'd beaten his fundraising target of £1500. We're hugely grateful to all our supporters for the myriad of ways they raise funds for our programmes – the money Sam raised will go straight back into our vital work with children and young people who most need it. You can read more from his adventure below: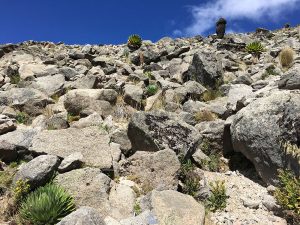 "Climbing Mt Kenya was an incredible experience that I will remember for the rest of my life and it was even more rewarding knowing that I was climbing to raise money for Wac Arts. I had never climbed to this altitude before and the last trek I went on was over 10 years ago for Duke of Edinburgh, so I didn't really know what to expect. The scenery was stunning and we were fortunate to have good weather during the day. It was a surreal experience to be alone with nature and have no connection to urban life (there was no signal and no wifi so I was totally cut off from the rest of the world!). The experience was much harder than I expected in terms of endurance and health. We were trekking for at least 6 hours a day over diverse terrain (sometimes very rocky and steep) and at night the temperature fell below zero due to the high altitude. On the third day, after reaching 4,300m, I suffered from altitude sickness very badly. Apparently it affects everyone differently, and some people might have no symptoms at all. I had a severe headache, lost all appetite and felt nauseous. Unfortunately by the fourth day it was no better. Altitude sickness can be very serious so half our group had to go down the mountain early before reaching the summit 'Point Lenana' (4,979m) which was disappointing. However, I feel a great sense of achievement to have climbed Mt Kenya and reached 4,600m, so I almost reached the top! Thank-you for all the support I had in my fundraising efforts. It is really for a great cause!"
Huge thanks to Sam Edge – we're absolutely thrilled to be able to invest the money raised back into our fantastic programmes.