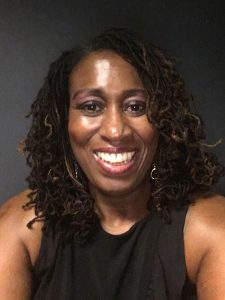 Over forty years of providing ridiculously good performing arts training, we have seen thousands of young people come through our doors. As we head towards our fortieth birthday, we have been connecting with these alumni from all walks of life, to see the impact Wac Arts has had. Last time we spoke to current student and volunteer John Gaine, who has been a member of Wac Arts for eleven years. This time around, Head of Marketing and Communications Hayley Butler spoke to one of our first ever students, Elaine. Elaine joined Wac Arts back in the seventies and returned to the organisation in the nineties as the co-ordinator of Junior Wac Arts. Keep reading to find out more about her journey from acting in a hall in Kentish Town to being Head of Access Programmes at Mousetrap Theatre Projects.
HB: Let's start at the beginning – how did you find out about Wac Arts?
EG: I found out about WAC (as it was called back then) at my secondary school in Peckham, South London. My drama teacher, Miss Bachelor, told myself and another student about it. We joined together in the late seventies, I think it was – seventy-eight, seventy-nine. My fellow student discovered she was very good at dance, but I focused on drama, mime and singing, as these were my strengths. We just did every class going, from ten o'clock in the morning until 6pm! Right the way through until they had to kick us out of the door and that was every week! There were lots of us that came from South London to North London, and we all traveled back on the tube together and that is where I discovered that I really wanted to be a part of the arts industry – as a career. Wac Arts gave me the inspiration – also joining the Wac Arts youth company, Fusion.
HB: Tell me more about Fusion?
EG: It was a youth dance and drama company. The first of it's kind. We traveled the UK and performed in lots of drama and dance youth festivals; we even performed at Sadler's Wells. All original work, we created it and Celia Greenwood and Teresa Noble who ran the company, they created some pieces as well. Fusion gave everybody the opportunity to have an input into the work and be collaborative. It gave us confidence as young people to have fun being creative Not just as performers but as actual directors and choreographers with unique ideas. The pieces that we created were 'mind-blowing', because the pieces we created had never been seen before. When we performed, the audience remembered us and the responses were always positive. It was an amazing time!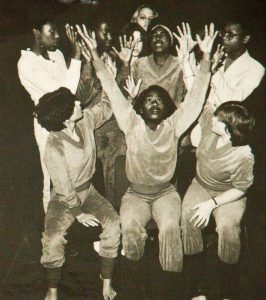 HB: Were you also studying at that time?
EG: At that point, I had applied to Middlesex Polytechnic to do my degree. I wanted to do a performance Arts degree because I'd had the experience of doing Drama, Vocals, Mime and Dance at Wac Arts so I wanted to do a triple threat course, and I also wanted to learn other art related subjects as well. I went to Middlesex between '82 and '85and there were two other Wac Arts students there studying Dance and were in the year above me. It was nice to know there were other Wac Arts students there as well. Our paths would cross because we were part of Fusion together and it felt like we were 'family'. As well as my studies we continued to travel at the weekends and perform around the country with Fusion.
I was the only black female, on my course in three years, out of sixty students there weren't any other black students on the course but I didn't see that as a disadvantage, I used it to my advantage. Because for me, it made me stronger as a person and performer as I knew it was where I was meant to be at that time in my life, as Maya Angelou said, "I come as one but I stand as ten thousand" and I hope we did open the doors for many more culturally diverse students to come after us. I was also getting more professional performing experiences that any of the other students because of my association with Fusion and Wac Arts.
In my second year, I applied to go to America on the BUNAC programme – one of those American exchange opportunities, to teach Performing Arts at a summer camp in Connecticut. The third-year project I wanted to develop ways to be about Women in Jazz. At the time I couldn't get any books in England about black women in Jazz. So, in my head, I needed to get to America. How do I get to America? Well, I applied to the Sir John Class foundation and they gave me £100 sponsorship to do some research and buy books while I was out there, and back in the 80s,£100 was quite a lot! So I spent the first two months at the camp and the third month I was able to do the research at one of the big universities, I could read, make copious notes and print off all this amazing information that we just could not get in the UK. As I was so near New York and I had to see some theatre and so I went to see the musical Dreamgirls on Broadway. I've still got the programme!
HB: At the time, was Fusionknown for being a diverse theatre group?
EG: It was just a melting pot of creative teenagers. I'd say the majority of us were black but there were some Caucasian, Cypriot… and I'm sure there some other races in the mix. We were from all different parts of London, you know, as working class teenagers, we'd commit to rehearsing every week; we'd laugh, we'd cry, we'd have fun, and be creative! We were creating our own characters, our own worlds, because even though we were good enough to get into the top drama and dance colleges and conservatoires, some of us still weren't getting the parts that we truly deserved.
HB: Because parts weren't being written?
EG: Exactly! I remember one student created a fantastic one woman piece – it was extremely powerful. Creating her own work was another string to her 'bow', that's what the strength of somewhere like Wac Arts nurtures, as it allowed you to be yourself and gives you the confidence to be able to be creative for yourself and others.
Read part 2 of Elaine's interview, about her career after university