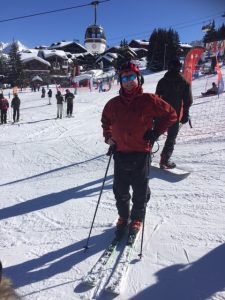 Introducing London Landmarks Half Marathon runner number 6, Clive Goss. Clive worked for Wac Arts in 2016 and has stayed in contact with the organisation ever since. Clive enjoys running and has taken part in many long distance races. We caught up with Clive whilst he was on holiday in the Alps enjoying his other hobby of skiing (We asked him to go careful and not have any injuries before he got back). Over to Clive…
How did you get involved with Wac Arts?
I worked with the Charity as the Interim Finance Director in 2016
What is it about Wac Arts' mission that makes you inspired to run a Half Marathon?
Was Arts changes lives
What's your favourite running tune?
Birdland – Weather Report
Have you run before? Any half marathons or long distances?
Just a bit… A few half marathons and four marathons
What is your training schedule?
Run when I can and the kids don't need me!
The event is described as "not your average half marathon! From cultural landmarks and heritage to the city's quirky and hidden secrets, runners will get to explore the capital on a route like no other!" What excites you about taking part in the London Landmarks half Marathon?
Love the route, running for a great charity, this is my first distance run since my back injury though so fingers crossed it goes well.
What will be the first thing you will want to do when you finish the race!?
Lie Down and relax, maybe a pint of beer 😊
How much are you hoping to raise?
With any luck the target of £500
What time are you hoping to complete the race in?
2:15 if injury free… wish me luck!
Clive send us a smile from the Alps before he returns to London and continues his training for the Half Marathon on 25th March 2018. Good luck Clive and thank you for returning to Wac Arts to support the essential programmes for young people.
Our runners took part in our January Jog last month to get kick started. To help continue their training, we are holding a February Fun Run on the 24th February. This event is open to not only our own runners but anyone who wants to join in. It's the perfect opportunity to keep up your new year's resolutions of getting fit and healthy, and to meet those who are supporting us in such a fantastic way. Anyone who wants to take part should meet outside Thornton's Budgens, Belsize Park, at 10.45am on the 24th February. It is hoped this will be the first of many events that brings Wac Arts closer to the local community.
The Wac Arts staff and students will all be there on the 25th March to cheer on the runners. Come and join us!
To donate to our runners please go to www.justgiving.com/fundraising/wacartsllhmteam