Akademi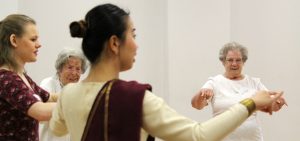 One of our favourite things about our Belsize Park home is all the creative companies that share our building! We've decided to give you a peek behind the scenes at what's happening with our building partners – the first we were lucky enough to speak to was Akademi. Read on to hear more about performances at Buckingham Palace, Illicit Worlds of Indian Dance, and overhearing recorder practise!
Could you please tell us about your organisation, and the work you do?
Akademi's mission is to inspire audiences and change lives by creating and nurturing excellence in classical, contemporary, popular and participatory South Asian dance. The organisation was founded in 1979 by Tara Rajkumar and Akademi has been taking South Asian dance to unexpected places ever since.
Our work encompasses, live performances, artist development and education and community work. Akademi's productions are often inspired by extraordinary architecture and public spaces; such as London's Southbank, Trafalgar Square and Somerset House's Fountain Court. We nurture the next generation of South Asian dance practitioners, providing mentoring and advice to curated showcase opportunities. We deliver participatory projects in education and community settings, inspiring creativity, broadening aspirations and improving health and wellbeing.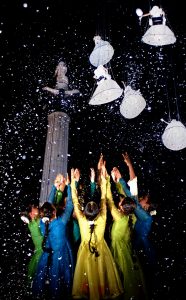 What's your favourite thing about being based at Wac Arts?
Being based at Wac Arts we are in the midst of so many exiting organisations and projects – bustling and productive, there's such a diversity of regulars and visitors. Every Tuesday morning, we can hear the recorder group in the rooms upstairs – they're doing brilliantly! It's also a beautiful, historic building that's a pleasure to be in – thanks to the friendly Wac Arts staff.
What was a highlight for your organisation in 2016?
Our Dance Well project has gone from strength to strength since its launch in January 2016.
It is a 3-year community participation project, funded by the National Lottery through the Big Lottery Fund. The project aims to improve the health and wellbeing of older adults who have ongoing health issues, are living in isolation in the community or face other barriers to participating in physical activity. During Year 1 of the Dance Well Project, Akademi has reached over 300 older adults at 52 workshops, and has featured on the BBC News. The creative approach employed in these workshops, including Bollywood, Kathak and Bharatanatyam inspired movement, has been welcomed by participants who have found dance to be a more rewarding and enjoyable form of exercise.
In September, our production Illicit Worlds of Indian Dance, which investigated the demise of Indian courtesans, the contemporary battles of bar girls and the exclusive worlds of cross dressing and queer performers, received a 4-star review from Luke Jennings in The Observer.
The evening championed the understanding and appreciation of these marginalised and underground forms of dance, and was narrated by Professor Anna Morcom, the writer of Illicit Worlds of Indian Dance: Cultures of Exclusion, and featured Asifa Lahore, Britain's first out Muslim drag queen and Attitude Pride Award winner.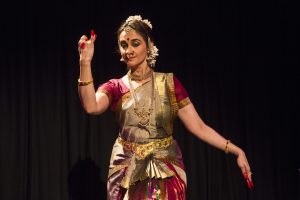 Do you have any upcoming projects for 2017 you're excited about?
We've started the year on a very high note presenting South Asian Dance at Buckingham Palace. By invitation from the High Commission of India a new work was created especially for a reception marking the official start of UK-India Year of Culture 2017, a major bilateral year of cultural exchange. As part of this celebratory exchange programme, Akademi will create a new production The Troth, supported by the British Council/Arts Council England Reimagine India fund. The Troth goes into development this summer and tours in 2018.
In 2016, Akademi produced Paradiso: Man's Enduring Search for Perfection. It will go on tour this year with the first showing at the Southbank Centre in May 2017. Paradiso is a new, cross arts commission inspired by the denouement of Dante's Divine Comedy– fusing contemporary and South Asian dance, an original score and an enduring narrative.
In July, we'll be holding NAVADAL, a National South Asian Youth Dance Competition. In an exciting new partnership with One Dance UK, NAVADAL will be presented as part of U.Dance 2017, at the Birmingham Hippodrome, gathering students from across the country. Many role models of South Asian dance started their careers at Akademi, this competition aims to discover those of the future!
Thanks so much for talking to us,
Akademi!
You can find out more about this organisation's innovative work by visiting their website, or catching up with them on Twitter or Facebook.
Website: www.akademi.co.uk
Facebook: https://www.facebook.com/Akademi.southasian.dance/
Twitter: https://twitter.com/Akademi