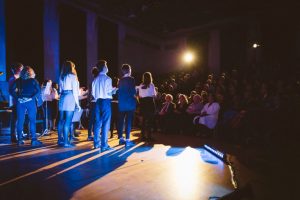 On Sunday 4 December actor and Patron Simon Callow led a star studded line up for Wac Arts' annual Christmas fundraiser. The fundraiser, now in its third year, took place at the Old Hampstead Town Hall in Belsize Park and is a key part of the charity's fundraising calendar, raising crucial funds for Wac Arts to continue to provide a wide range of performing arts programmes and media training for children and young people who most need them.
Guests to the fundraiser enjoyed a unique one hour show, centred around The Seven Ages of Man, an adapted piece from the 'All the World's a Stage' monologue from Shakespeare's As You Like It, which describes the various stages of a man's life – from cradle to grave.
Simon was joined by a host of industry professionals, including star of stage and screen Vanessa Redgrave, Eastenders star and fellow Wac Arts patron Ann Mitchell and Wac Arts alumna Sheila Atim, fresh from Phyllida Lloyd's acclaimed Shakespeare Trilogy at Donmar Warehouse. Current students were also joined by other alumni, showcasing their own Shakespearean pieces within the 60 minute show in order to demonstrate the considerable talent that Wac Arts continues to develop. Shakespeare was chosen as a theme "not just because of the 400th anniversary, but because his work still offers the best account of what it is to be human," said Simon.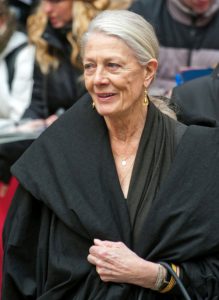 Simon Callow became a patron of Wac Arts following a performance with longstanding patron Ann Mitchell at their base in Belsize Park. Here he was introduced to the charity's diverse talent and impressive alumni list which boasts MOBO and Tony Award winners and Oscar and Academy Award nominees. He has described the charity as "an organisation I hugely admire and whose work has never been so important" regularly championing their ongoing efforts with young people from deprived backgrounds and difficult circumstances.
The full cast list: Simon Callow – Patron of Wac Arts, Ann Mitchell – Patron of Wac Arts, Vanessa Redgrave, Frances de la Tour, Jacqui Dankworth, Don Warrington, Indra Ove – Friend of Wac Arts, Martina Laird – Friend of Wac Arts, Shelia Atim – Alumna of Wac Arts.