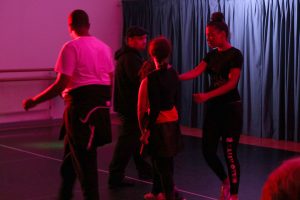 Urban Motivation is our over-18 Disability Inclusion group, who work together to create performances devised by themselves about subjects that matter to them, using performance styles that excite them, all created to entertain the audience. This term, they were led by three leaders within the group, who supported the rest of their team to develop their skills and create a performance. Each of the leaders are working towards an AQA Certificate for their work this term, as a formal recognition of the skills they have developed. These were performed on Wednesday 4th July to their peers and a group of selected invitees.
The evening kicked off with a warm-up, lead by long-time Urban Motivation member Shanice. Shanice has been a keen dancer for many years, leading a previous dance class at our London Youth Residential earlier this year. She is currently working towards becoming a dance teacher, and this warm-up for her peers and the audience was an important step on her journey.
Once Shanice had warmed everyone up, Wac Arts Ignite took over to help us prepare a magic potion that would protect us from evil, invading forces (As the performance coincided with Flying Ant Day, this seemed particularly appropriate). Some very brave volunteers tried the concoctions of blended chicken, artichoke and spinach and whilst it may have protected them from evil forces, we're not sure if the taste was worth it. It certainly didn't look pleasant either, especially when an improperly secured lid caused the mixture to cover the table (and the surrounding area).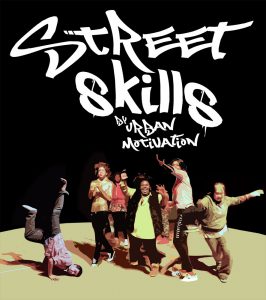 Urban Motivation then took to the stage again, starting with a hip-hop dance performance from two of our students. Unfortunately the leader of the group was unable to join us for the performance, but their group members performance admirably in her absence.
Next to take the stage were a group combining drama with dance and movement to create a heavy hitting performance about knife crime, inspired by a story that impacted one of our students personally. It combined strong choreographed movement with a heartbreaking scene depicting someone whose brother had been stabbed. The emotion felt by all the performers was clear and hopefully the performance made the audience think about this problem that impacts so many people in London right now.
That last performance combined comedy with self-defence to teach the audience about how to protect themselves. We saw 'Kill Bill' face off Bill (and Ben), Bill Clinton and an Electricity Bill, before showing us how to protect ourselves against guns and knives using the moves demonstrated in the performance.
The evening ended with a short Question and Answer session with the young people, where they were given the opportunity to talk about their experience devising the performances. The group leaders spoke about the struggles they faced and offered leadership advice to the audience from what they had learned.
Thank you to Urban Motivation and Wac Arts Ignite for a fantastic performance, and good luck finishing your work for your AQA certificates!